Around The Board

Print
Art of the Print
Jacob Lawrence (1917–2000)
Carpenters, 1977
Lithograph on paper
Gift of the Fine Arts Advisory Panel
of the Federal Reserve Board, 2009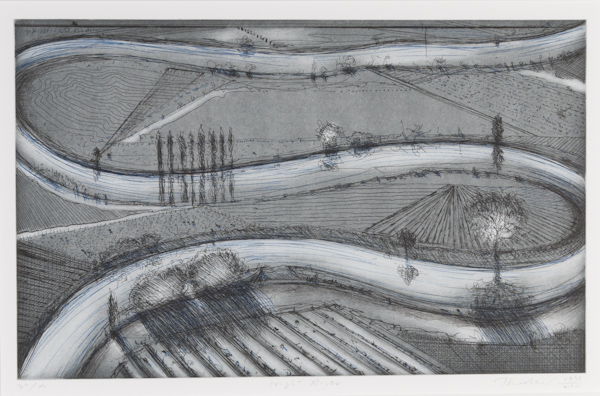 Wayne Thiebaud (b. 1920)
Night River, 1998/2011
Gelatin silver print
Hardground etching with drypoint
and aquatint printed in blue and black.
Gift of the Fine Arts Advisory Panel
of the Federal Reserve Board, 2011
An exhibition at the Federal Reserve Board from April 7 to September 5, 2014
Art of the Print showcases prints from the Federal Reserve Board's collection. The exhibition examines the original print through various printmaking techniques: intaglio (engraving and etching), lithograph, relief (linocut and woodcut), serigraph, and digital. It includes prints by William Christenberry, Joseph Holston, Jacob Kainen, Morton Kaish, Robert Kipniss, Jacob Lawrence, Sean Scully, John Sloan, Renée Stout, Joyce Tenneson, Wayne Thiebaud, and Andrea Way.
With the exception of digital prints, an original print is considered a work of art that is created directly by hand and printed by hand. Multiple prints are created from a single plate, block, stone, stencil, or digital file. An artist creates a master image that is used to make the print and then makes impressions of the image on the finest quality paper. From conception to finished print, the entire process is planned and brought to completion by the artist, who sometimes works with a printmaker.
Art of the Print is open to the public Monday through Friday from 10:00 a.m. to 3:30 p.m., except federal holidays. Reservations are required at least five business days in advance. For reservations and further information, please use the Contact Us form.
---
Last update: April 7, 2014