Keys to Vehicle Leasing
Sample Leasing Form - Page 2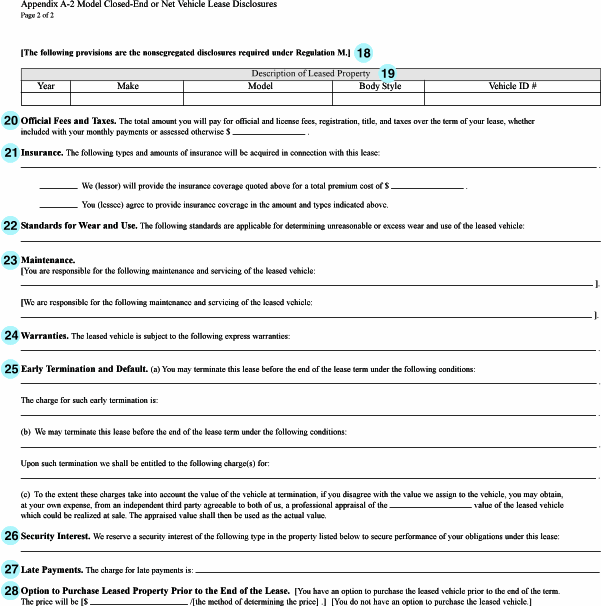 18. Nonsegregated disclosures: The information on this page of the form may be presented in a different order and may appear anywhere in the lease agreement except with the segregated disclosures.
19. Description of Leased Property: You are the lessee.
20. Official Fees and Taxes: This total amount may be an estimate because your fees and taxes, such as personal property taxes, may change over the life of the lease.
21. Insurance: Generally you are responsible for providing insurance. Lease agreements typically require that you maintain vehicle collision and comprehensive insurance as well as liability insurance for bodily injury and property damage. You may be required to carry higher levels of insurance in a lease than the minimum required if you buy the vehicle. Ask the lessor what happens in the event your vehicle is stolen or totaled and the amount you owe is greater than the amount covered by your insurance--a difference often referred to as the "gap."
22. Standards for Wear and Use: Be sure you understand what is considered normal wear and use and what is considered excess, because you may have to pay for any excess wear and use if you return the vehicle at the end of the lease. For example, how much tread must be on your tires when you turn in the vehicle at the end of the lease?
23. Maintenance: Make certain you know whether you or the lessor is responsible for maintaining and servicing the vehicle. If you are responsible, what maintenance schedule must you follow?
24. Warranties: You generally receive the benefit of all warranties and recall notices that apply to your vehicle. A warranty usually covers specified mechanical problems during a specified period of time or for a specified number of miles.
25. Early Termination and Default: This section outlines what happens if the lease is terminated early and describes how any early termination charges are calculated. Early termination may be voluntary or involuntary (for example, early return of the vehicle, theft or destruction of the vehicle in an accident, or default on the lease).
26. Security Interest: The lessor may hold the legal right to some of your property, such as a certificate of deposit or stock, to secure payment of your obligation under the lease agreement.
27. Late Payments: Late payment fees may be limited by state law, so check with your state's consumer protection office or Office of the Attorney General to learn if there are limits where you live. In addition to fees for late payments, your lease agreement may include charges for delinquency or default.
28. Option to Purchase Leased Property Prior to the End of the Lease: If you have this option, the lessor will generally disclose a method for determining the purchase price.
Last update: March 13, 2013