Bank Regulatory Agencies Find Adversely Rated Syndicated Loans Continue to Increase in 2002, but at Slower Rate than Previous Year


WASHINGTON -- The quality of large syndicated bank loans continued to deteriorate this year, but at a slower rate than was evident in 2001, according to the 2002 Shared National Credit (SNC)1 review, which federal bank regulators released today. The deterioration was consistent with general economic, sectoral, and credit market trends.

The results -- reported by the Board of Governors of the Federal Reserve System, the Office of the Comptroller of the Currency and the Federal Deposit Insurance Corporation -- are based on analyses that were prepared during the second quarter and reflect business and economic conditions that prevailed at that time.

For the 2002 review, total loan commitments classified as either substandard, doubtful or loss rose by $39.4 billion or 34 percent over the previous year, compared to a net increase of $54.3 billion or 86 percent the year before. At the same time, commitments rated special mention rose $3.6 billion or 5 percent compared to $39.1 billion or 108 percent the year before.

Adversely rated credits are the total of loans classified substandard, doubtful, and loss and loans rated special mention. Under the agencies' Uniform Loan Classification Standards, classified loans have well defined weaknesses, including default in some cases, while special mention loans exhibit potential weaknesses, which may result in further deterioration if left uncorrected.

Deterioration since the middle of last year was largely driven by the pronounced problems in the telecommunication sector, alleged corporate fraud, weakness from the recent recession, and the after-effects of September 11th. Similar to last year, deterioration has been particularly evident for credits to leveraged and speculative-grade borrowers that are facing difficulty generating sufficient cash flow to service their debts because of over capacity, weaker pricing or slower than anticipated growth. At the same time, certain market segments have shown moderate improvement, with the professional, scientific, financial, insurance and other service sectors showing lower classification levels relative to 2001.

In 2002, the SNC Program covered 9,328 credits totaling $1.9 trillion in loan commitments to 5,542 borrowers. Of the total commitments, $692 billion was advanced and outstanding. Classified credits totaled $157.1 billion, or 8.4 percent of total commitments, up from $117.6 billion or 5.7 percent in 2001. At the same time, loans listed for special mention rose to 4.2 percent of total commitments, from 3.7 percent in 2001. On a combined basis, special mention and classified loans represent 12.6 percent of total commitments, up from 9.4 percent a year ago but still below the peak of 16 percent in 1991 (see Chart 1 and Appendix A). None of these figures include the effects of hedging or other techniques that individual organizations might have employed to mitigate risk.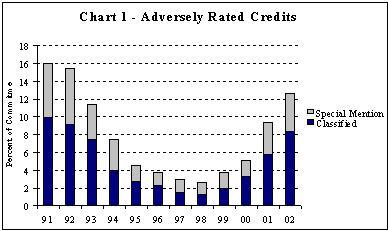 Of particular note for 2002 was a record $19.6 billion in commitments characterized as loss, up $11.6 billion from the year before. Of that total, $7.6 billion or 39 percent was attributable to the telecommunication and cable industries.
Of the $1.9 trillion in total SNC commitments, U.S. banking organizations2 and foreign banking organizations (FBO) each held 45 percent of the exposures, and nonbank firms held the remaining 10 percent (see top panel of Table 1). Since 2000, the share of commitments held by U.S. banks has fallen somewhat, while the nonbank share has grown. For 2002, the rate of deterioration for credits held by these groups has differed markedly, with U.S. banking organizations experiencing an 11 percent increase in classifieds, compared to 39 percent for FBOs and 68 percent for nonbanks. Classifications as a percent of commitments also showed a wide range with U.S. banks exhibiting lower overall problems relative to FBOs or nonbanks (see bottom panel).