The Business Sector
Private nonresidential fixed investment increased 7 percent during 1999, extending by another year a long run of rapid growth in real investment outlays. Strength in capital investment has been underpinned in recent years by the vigor of the business expansion, by the advance and spread of computer technologies, and by the ability of most businesses to readily obtain funding through the credit and equity markets.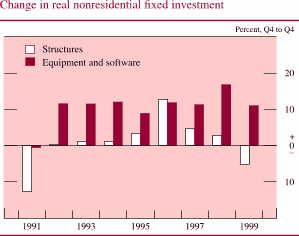 Investment in high-tech equipment continued to soar in 1999. Outlays for communications equipment rose about 25 percent over the course of the year, boosted by a number of factors, including the expansion of wireless communications, competition in telephone markets, the continued spread of the Internet, and the demand of Internet users for faster access to it. Computer outlays rose nearly 40 percent in real terms, and the purchases of computer software, which in the national accounts are now counted as part of private fixed investment, rose about 13 percent; for both computers and software the increases were roughly in line with the annual average gains during previous years of the expansion.
The timing of investment in high-tech equipment over the past couple of years was likely affected to some degree by business preparations for the century date change. Many large businesses reportedly invested most heavily in new computer equipment before the start of 1999 to leave sufficient time for their systems to be tested well before the start of 2000; a very steep rise in computer investment in 1998--roughly 60 percent in real terms--is consistent with those reports. Some of the purchases in preparation for Y2K most likely spilled over into 1999, but the past year also brought numerous reports of businesses wanting to stand pat with existing systems until after the turn of the year. Growth in computer investment in the final quarter of 1999, just before the century rollover, was the smallest in several quarters.
Spending on other types of equipment rose moderately, on balance, in 1999. Outlays for transportation equipment increased substantially, led by advances in business purchases of motor vehicles and aircraft. By contrast, a sharp decline in spending on industrial machinery early in the year held the yearly gain for that category to about 2 percent; over the final three quarters of the year, however, outlays picked up sharply as industrial production strengthened.
Private investment in nonresidential structures fell 5 percent in 1999 according to the advance estimate from the Commerce Department. Spending on structures had increased in each of the previous seven years, rather briskly at times, and the level of investment, though down this past year, remained relatively high and likely raised the real stock of capital invested in structures appreciably further. Real expenditures on office buildings, which have been climbing rapidly for several years, moved up further in 1999, to the highest level since the peak of the building boom of the 1980s. In contrast, investment in other types of commercial structures, which had already regained its earlier peak, slipped back a little, on net, this past year. Spending on industrial structures, which accounts for roughly 10 percent of total real outlays on structures, fell for a third consecutive year. Outlays for the main types of institutional structures also were down, according to the initial estimates. Revisions to the data on nonresidential structures often are sizable, and the estimates for each of the three years preceding 1999 have eventually shown a good bit more strength than was initially reported.
After increasing for two years at a rate of about 6 percent, nonfarm business inventories expanded more slowly this past year--about 3-1/4 percent according to the advance GDP report. During the year, some businesses indicated that they planned to carry heavier stocks toward year-end to protect themselves against possible Y2K disruptions, and the rate of accumulation did in fact pick up appreciably in the fall. But business final sales remained strong, and the ratio of nonfarm stocks to final sales changed little, holding toward the lower end of the range of the past decade. With the ratio so low, businesses likely did not enter the new year with excess stocks.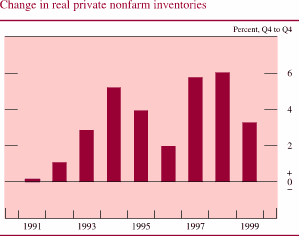 After slowing to a 1 percent rise in 1998, the economic profits of U.S. corporations--that is, book profits with inventory valuation and capital consumption adjustments--picked up in 1999. Economic profits over the first three quarters of the year averaged about 3-1/2 percent above the level of a year earlier. The earnings of corporations from their operations outside the United States rebounded in 1999 from a brief but steep decline in the second half of 1998, when financial market disruptions were affecting the world economy. The profits earned by financial corporations on their domestic operations also picked up after having been slowed in 1998 by the financial turmoil; growth of these profits in 1999 would have been greater but for a large payout by insurance companies to cover damage from Hurricane Floyd. The profits that nonfinancial corporations earned on their domestic operations in the first three quarters of 1999 were about 2-1/2 percent above the level of a year earlier; growth of these earnings, which account for about two-thirds of all economic profits, had slowed to just over 2 percent in 1998 after averaging 13 percent at a compound annual rate in the previous six years. Nonfinancial corporations have boosted volume substantially further over the past two years, but profits per unit of output have dropped back somewhat from their 1997 peak. As of the third quarter of last year, economic profits of nonfinancial corporations amounted to slightly less than 11-1/2 percent of the nominal output of these companies, compared with a quarterly peak of about 12-3/4 percent two years earlier.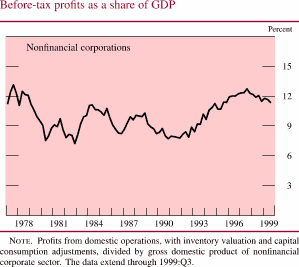 The borrowing needs of nonfinancial corporations remained sizable in 1999. Capital spending outstripped internal cash flow, and equity retirements that resulted from stock repurchases and a blockbuster pace of merger activity more than offset record volumes of both seasoned and initial public equity offerings. Overall, the debt of nonfinancial businesses grew 10-1/2 percent, down only a touch from its decade-high 1998 pace.
The strength in business borrowing was widespread across funding sources. Corporate bond issuance was robust, particularly in the first half of the year, though the markets' increased preference for liquidity and quality, amid an appreciable rise in defaults on junk bonds, left issuance of below-investment-grade securities down more than a quarter from their record pace in 1998. The receptiveness of the capital markets helped firms to pay down loans at banks--which had been boosted to an 11-3/4 percent gain in 1998 by the financial market turmoil that year--and growth in these loans slowed to a more moderate 5-1/4 percent pace in 1999. The commercial paper market continued to expand rapidly, with domestic nonfinancial outstandings rising 18 percent on top of the 14 percent gain in 1998.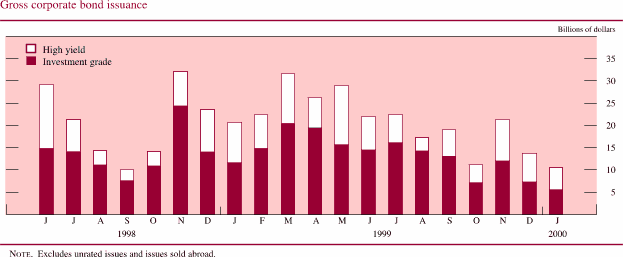 Commercial mortgage borrowing was strong again as well, as real estate prices generally continued to rise, albeit at a slower pace than in 1998, and vacancy rates generally remained near historical lows. The mix of lending shifted back to banks and life insurance companies from commercial mortgage-backed securities, as conditions in the CMBS market, especially investor appetites for lower-rated tranches, remained less favorable than they had been before the credit market disruptions in the fall of 1998.
Risk spreads on corporate bonds seesawed during 1999. Over the early part of the year, spreads reversed part of the 1998 run-up as markets recovered. During the summer, they rose again in response to concerns about market liquidity, expectations of a surge in financing before the century date change, and anticipated firming of monetary policy. Swap spreads, in particular, exhibited upward pressure at this time. The likelihood of year-end difficulties seemed to diminish in the fall, and spreads again retreated, ending the year down on balance but generally above the levels that had prevailed over the several years up to mid-1998.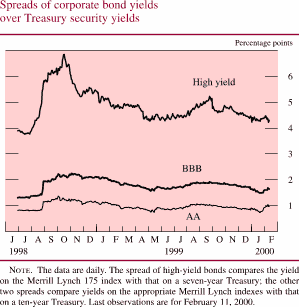 Federal Reserve surveys indicated that banks firmed terms and standards for commercial and industrial loans a bit further, on balance, in 1999. In the syndicated loan market, spreads for lower-rated borrowers also ended the year higher, on balance, after rising substantially in 1998. Spreads for higher-rated borrowers were fairly steady through 1998 and early 1999, widened a bit around midyear, and then fell back to end the year about where they had started.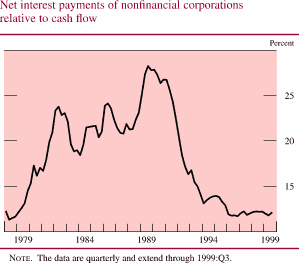 The ratio of net interest payments to cash flow for nonfinancial firms remained in the low range it has occupied for the past few years, but many measures of credit quality nonetheless deteriorated in 1999. Moody's Investors Service downgraded more nonfinancial debt issuers than it upgraded over the year, affecting a net $78 billion of debt. The problems that emerged in the bond market were concentrated mostly among borrowers in the junk sector, and partly reflected a fallout from the large volume of issuance and the generous terms available in 1997 and early 1998; default rates on junk bonds rose to levels not seen since the recession of 1990-91. Delinquency rates on C&I loans at commercial banks ticked up in 1999, albeit from very low levels, while the charge-off rate for those loans continued on its upward trend of the past several years. Business failures edged up last year but remained in a historically low range.