Emerging Market Economies
Argentina was a main focus of attention among emerging market economies in 2001. In the first part of the year, worse-than-expected data on the fiscal situation and concerns that the government would be unable to implement announced fiscal measures heightened doubts about whether Argentina would be able to avoid a default on its debt. Argentine financial markets received only temporary support from a large-scale debt exchange completed in June and an enhancement of IMF support approved in September. With financial market confidence eroding, conditions took a dramatic turn for the worse late in the year; financial asset prices fell sharply, and funds moved out of the banking system as the government moved to restructure its debt and the one-to-one peg to the dollar looked increasingly precarious. In early December, the government imposed capital controls, including limits on bank account withdrawals. These restrictions led to widespread protests, which triggered the resignation of President de la Rua and an interval of political turmoil. After the resignation of President de la Rua, the government announced it would suspend debt payments to the private sector. The government of the new president, Eduardo Duhalde, suspended Argentina's currency board arrangement and established a temporary dual exchange rate system. In early February, the dual exchange rate system was abandoned, and the peso's floating rate moved to about 2 pesos per dollar amid continuing economic uncertainty. For 2001 as a whole, Argentine real GDP is estimated to have fallen at well over a 5 percent rate, and prices declined further.

<! P51>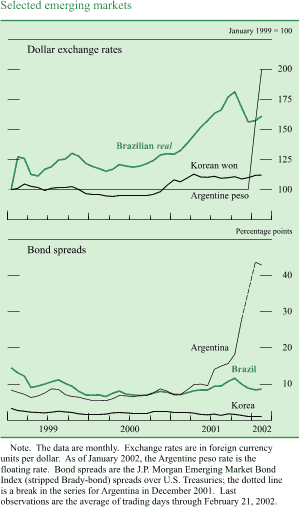 To date, the negative spillover from events in Argentina to other emerging financial markets has been limited, possibly because market participants had been well aware of Argentina's problems for some time and viewed them as largely confined to that country. Brazil was probably most heavily affected by events in Argentina, and the bond spread on Brazilian debt showed a net increase of about 110 basis points over the course of last year while the spread on Argentina debt exploded upward. Other important factors weighing on Brazilian economic activity last year likely were weak growth in the United States--Brazil's most important export market--and the emergence of an energy shortage as drought limited hydroelectric output. For the year as a whole, Brazilian real GDP is estimated to have risen at less than a 1 percent rate after growing at a 4 percent rate the previous two years. The Brazilian currency registered a net depreciation against the dollar of about 16 percent over the course of last year, while stock prices declined more than 10 percent. The Brazilian central bank tightened policy last year in an effort to hold down the inflationary impact of currency depreciation.
Real GDP in Mexico declined about 1 percent in 2001, a sharp reversal from the 5 percent growth rates recorded in the previous two years. The falloff in activity was mainly a reflection of the negative effects on direct trade and confidence in Mexico arising from the slowdown of the U.S. economy. In light of the marked weakening of activity, declining inflation, and a strong peso, the Bank of Mexico started to loosen the stance of monetary policy in May, and short-term interest rates continued to decline over the rest of the year. In February 2002, the Bank of Mexico moved to tighten monetary conditions, citing concerns that an increase in administered prices would raise inflation. Mexican financial markets fared quite well last year, with the peso appreciating 5 percent against the dollar and stock prices rising nearly 15 percent. The effect on Mexican financial markets from Argentina's difficulties appeared to have been quite limited, as indicated by the net decline of the Mexican debt spread by 80 basis points over the course of the year.
Economic growth in the Asian emerging market economies turned negative last year. On average, real GDP in developing Asia is estimated to have declined about 1 percent in 2001, compared with average growth of 6 percent in the previous year. A key factor in this slowing was the sharp falloff in global demand for the high-tech products that had fueled rapid export growth in the region in recent years.
The economies of Taiwan, Singapore, and Malaysia are highly dependent on exports of semiconductors and other high-tech products, and as global demand for these goods was cut back sharply, real GDP in these countries declined by an estimated 5 percent on average last year. Indonesia and Thailand, both relatively less dependent on high-tech exports and experiencing some reduction in political tension over the course of the year, managed to record small positive real GDP growth rates last year, albeit well below rates of the previous year.
Korean real GDP is estimated to have increased about 2 percent in 2001. While in an absolute sense Korea is an important exporter of high-tech products such as semiconductors, it has a relatively more diversified economy than most of its Asian neighbors, and thus the magnitude of its slowdown last year was somewhat muted. Government moves toward monetary and fiscal policy stimulus over the course of the year helped support domestic demand in Korea.
In China, recorded growth of real GDP remained robust last year. China's lesser dependency on exports in general, and high-tech exports in particular, cushioned it from last year's global slowdown, and the government stepped up the pace of fiscal stimulus to offset weakening private demand. Hong Kong, with exports not heavily concentrated in high-tech goods and an economy closely integrated with a rapidly growing Chinese economy, is nevertheless estimated to have experienced a decline in real GDP last year. The peg of Hong Kong's currency to a strengthening U.S. dollar put pressure on its competitive position, and domestic price deflation continued.
Conditions in financial markets in emerging Asia were, for the most part, not particularly volatile last year. Debt spreads were little changed on average for the region as a whole, exchange rates against the dollar generally moved lower, and stock indexes declined somewhat on average.