Note.  Changes are based on quarterly averages and are measured from Q1 to Q1.
 

U.S. Financial Markets
Market interest rates have moved lower, on net, since the end of 2001, as market participants apparently viewed the ongoing recovery as likely to be less robust than they had been expecting late last year. Such a reassessment of the strength of economic activity and associated business earnings, along with worries about the accuracy of published corporate financial statements, weighed heavily on major equity indexes, which dropped 12 to 31 percent. The debt of the nonfinancial sectors expanded at a moderate pace, but lenders have imposed somewhat firmer financing terms, especially on marginal borrowers.
Households' preferences for safer assets, which had intensified following last year's terrorist attacks, diminished early in 2002, as evidenced by strong flows into both equity and bond mutual funds. Equity fund inflows lessened in May and turned into outflows in June, however, as concerns about the strength and accuracy of corporate earnings reports mounted. But the net shift toward longer-term assets this year appears to have contributed to a significant deceleration in M2, which has also been slowed by reduced mortgage refinancing activity and a leveling out of the opportunity cost of holding M2 assets.
Interest Rates
Uncertain about the robustness of the economic recovery, the FOMC opted to retain its accommodative policy stance over the first half of 2002, leaving its target for the federal funds rate at 1-3/4 percent. Market participants, too, have apparently been unsure about the strength of the recovery, and shifts in their views of the economic outlook have played a significant role in movements in market interest rates so far this year. During the first quarter of the year, news on aggregate spending and output came in well above expectations, and Treasury coupon yields rose between 35 and 65 basis points. The second quarter, however, brought renewed concerns about the economic outlook, compounded by sharp declines in equity prices. In recent months, Treasury coupon yields have more than reversed their earlier increases and are now 40 to 50 basis points below their levels at the end of 2001.

<! P37>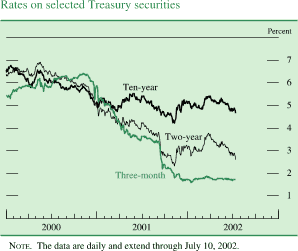 Survey measures of long-term inflation expectations have been quite stable this year, implying that real rates changed about as much as nominal rates. The spread between nominal and inflation-indexed Treasury yields, another gauge of investors' expectations about inflation, has moved over a relatively wide range since the end of 2001, but, on net, it has edged up only slightly. Even the small widening of this spread likely overstates a shift in sentiment regarding future price pressures in the economy. In mid-February, the Treasury reassured investors that it would continue to issue indexed debt, an announcement that was reinforced in May when the Treasury made public its decision to add one more auction of ten-year indexed notes to its annual schedule of offerings. This reaffirmation of the Treasury's commitment to issue indexed securities may have pulled indexed yields down by bolstering the actual and expected liquidity of the market.

Yields on longer-maturity bonds issued by investment-grade corporations have stayed close to their lows of the past ten years, but speculative-grade yields remained near the high end of their range since the mid-1990s. Spreads relative to Treasury yields have widened most recently for both investment- and speculative-grade bonds as concerns about corporate earnings reporting intensified. Such concerns have also played a prominent role in the commercial paper market, especially early this year, when investors, who had become increasingly worried about accounting scandals, imposed high premiums on lower quality borrowers. Subsequently, however, many such borrowers either left the commercial paper market or reduced their reliance on commercial paper financing, and the average yield spread on second-tier commercial paper over top-tier paper has narrowed considerably.

<! P38>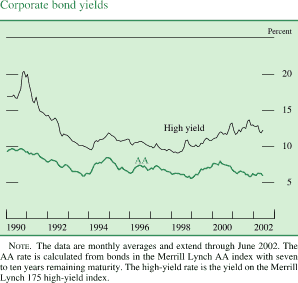 <! P39>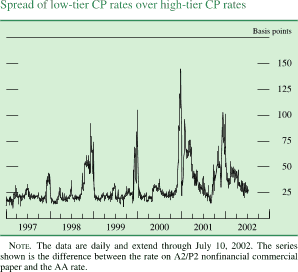 Interest rates on car loans have changed little, on net, this year, and mortgage rates have moved lower. However, according to the Federal Reserve's Survey of Terms of Business Lending, interest rates on C&I loans at domestic banks have moved a bit higher this year, as banks have raised the spread of the average interest rate on business loans over the target federal funds rate. The wider spread reflects higher risk premiums on C&I loans to lower-quality borrowers; spreads for higher-quality borrowers have changed little on net.

<! P40>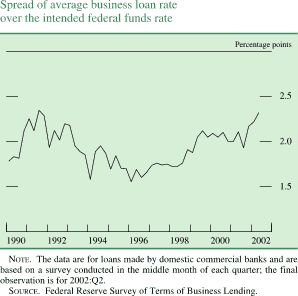 Equity Markets
After falling in January in reaction to pessimistic assessments of expected business conditions over the coming year--especially in the tech sector--stock prices rebounded smartly toward the end of the first quarter on stronger-than-expected macroeconomic data. Most first-quarter corporate earnings releases met or even exceeded market participants' expectations, but many firms included sobering guidance on sales and earnings prospects in those announcements. These warnings, combined with mounting questions about corporate accounting practices, worries about threats of domestic terrorism, and escalating geopolitical tensions, have taken a considerable toll on equity prices since the end of March. On net, all major equity indexes are down substantially so far this year. Share prices in the telecom and technology sectors have performed particularly poorly, and, on July 10, the Nasdaq was 31 percent lower than at the end of 2001. The Wilshire 5000, a broad measure of equity prices, fell 18-1/2 percent over the same period, returning to a level 40 percent below its historical peak reached in March 2000.

<! P41>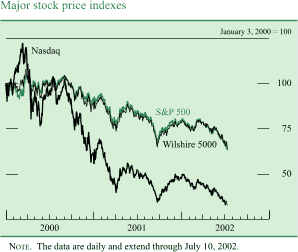 Declining share prices pulled down the price-earnings ratio for the S&P 500 index (calculated using operating profits expected over the coming year). Nonetheless, the ratio remained elevated relative to its typical values before the mid-1990s, suggesting that investors continued to anticipate rapid long-term growth in corporate profits.

<! P42>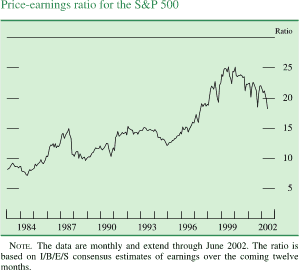 Monetary Policy Instruments
At its March 19 meeting, the FOMC assessed the priorities, given limited resources, it should attach to further studies of the feasibility of outright purchases for the System Open Market Account (SOMA) of mortgage-backed securities guaranteed by the Government National Mortgage Association (GNMA-MBS) and the addition of foreign sovereign debt securities to the list of collateral eligible for U.S. dollar repurchase agreements by the System. As noted in the February and July 2001 Monetary Policy Reports to the Congress, such alternatives could prove useful if outstanding Treasury debt obligations were to become increasingly scarce relative to the necessary growth in the System's portfolio, and the FOMC had requested that the staff explore these options. Noting that many of the staff engaged in these studies were also involved in contingency planning, which had been intensified after the September 11 attacks, the FOMC decided to give the highest priority to such planning. Federal budgetary developments over the past year meant that constraints on Treasury debt supply would not become as pressing an issue as soon as the FOMC had previously thought. Still, given the inherent uncertainty of budget forecasts, the likely significant needs for large SOMA operations in coming years, and the lead times required to implement new procedures, the FOMC decided that the exploratory work on the possible addition of outright purchases of GNMA-MBS should go forward once it was possible to do so without impeding contingency planning efforts.
The Federal Reserve also addressed possible changes to the structure of its discount window facility. On May 17, 2002, the Federal Reserve Board released for public comment a proposed amendment to the Board's Regulation A that would substantially revise its discount window lending procedures. Regulation A currently authorizes the Federal Reserve Banks to operate three main discount window programs: adjustment credit, extended credit, and seasonal credit. The proposed amendment would establish two new discount window programs called primary credit and secondary credit as replacements for adjustment and extended credit. The Board also requested comment on the continued need for the seasonal program but did not propose any substantive changes to the program. The proposal envisions that primary credit would be available for very short terms, ordinarily overnight, to depository institutions that are in generally sound financial condition at an interest rate that would usually be above short-term market interest rates, including the federal funds rate; currently, the discount rate is typically below money market interest rates. The requirement that only financially sound institutions should have access to primary credit should help reduce the stigma currently associated with discount window borrowings. In addition, because the proposed discount rate structure will eliminate the incentive that currently exists for depository institutions to borrow to exploit a positive spread between short-term money market rates and the discount rate, the Federal Reserve will be able to reduce the administrative burden on borrowing banks. As a result, depository institutions should be more likely to turn to the discount window when money markets tighten significantly, enhancing the window's ability to serve as a marginal source of reserves for the overall banking system and as a backup source of liquidity for individual depository institutions. Secondary credit would be available, subject to Reserve Bank approval and monitoring, for depository institutions that do not qualify for primary credit. The proposed amendment is intended to improve the functioning of the discount window and the money market more generally. Adoption of the proposal would not entail a change in the stance of monetary policy. It would not require a change in the FOMC's target for the federal funds rate and would not affect the overall level of market interest rates. The comment period on the proposal ends August 22, 2002. If the Board then votes to revise its lending programs, the changes likely would take place several months later.
Debt and Financial Intermediation
Growth of the debt of domestic nonfinancial sectors other than the federal government is estimated to have slowed during the first half of 2002, as businesses' needs for external funds declined further owing to weak capital spending, continuing inventory liquidation, and rising profits. In addition, growth in consumer credit moderated following a surge in auto financing late last year. On balance, nonfederal debt expanded at a 5-1/2 percent annual rate in the first quarter of the year after growing 7-1/2 percent in 2001. In contrast, the stock of federal debt held by the public, which had contracted slightly in 2001, grew 3-1/4 percent at an annual rate in the first quarter and expanded further in the second quarter, as federal tax revenues fell short of expectations and government spending increased substantially. The sharp rise in federal debt outstanding followed a few years of declines.

<! P43>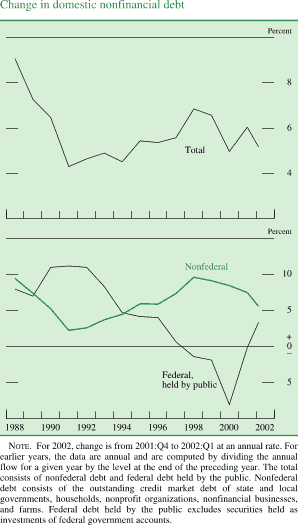 The proportion of total credit supplied by depository institutions over the first half of the year is estimated to have been near its lowest value since 1993. Although banks have continued to acquire securities at about the same rapid pace observed in 2001, the shift in household and business preferences toward longer-term sources of credit greatly reduced the demand for bank loans. As noted, banks' loans to businesses ran off considerably, as corporate borrowers turned to the bond market in volume to take advantage of favorable long-term interest rates. Growth of real estate loans slowed markedly this year, partly as outlays for nonresidential structures declined, but growth of consumer loans was fairly well maintained. With some measures of credit quality in the business and household sectors still pointing to pockets of potential strain, loan-loss provisions remained high at banks and weighed on profits. Nonetheless, bank profits in the first quarter stayed in the elevated range observed over the past several years, and virtually all banks--98 percent by assets--remained well capitalized.

<! P44>
Among nondepository financial intermediaries, government-sponsored enterprises (GSEs) curtailed their net lending (net acquisition of credit market instruments) during the first quarter of the year, but available data suggest that insurance companies more than made up for the shortfall. The GSEs appeared to continue to restrain their net lending in the second quarter, in part as yields on mortgage-backed securities, which are a major component of their holdings of financial assets, compared less favorably to yields on the debt they issue. Net lending by insurance providers in the first quarter was especially strong among life insurance companies, which experienced a surge in sales late last year in the aftermath of the September 11 terrorist attacks. Net lending by the GSEs amounted to 14 percent of the net funds raised by both the financial and nonfinancial sectors in the credit markets in the first quarter of 2002, and the figure for insurance companies was 10 percent; depository credit accounted for 13 percent of all net borrowing over the same period.
Monetary Aggregates
The broad monetary aggregates decelerated considerably during the first half of this year. M2 rose 4-1/2 percent at an annual rate after having grown 10-1/4 percent in 2001. Several factors contributed to the slowing in M2. Mortgage refinancing activity, which results in prepayments that temporarily accumulate in deposit accounts before being distributed to investors in mortgage-backed securities, moderated over the first half of this year. In addition, the opportunity cost of holding M2 assets has leveled out in recent months, so the increase in this aggregate has been more in line with income. Because the rates of return provided by many components of M2 move sluggishly, the rapid declines in short-term market interest rates last year temporarily boosted the attractiveness of M2 assets. In recent months, however, yields on M2 components have fallen to more typical levels relative to short-term market interest rates. Lastly, precautionary demand for M2, which was high in the aftermath of last year's terrorist attacks, seems to have unwound in 2002, with investors shifting their portfolios back toward longer-term assets such as equity and bond mutual funds. With growth in nominal GDP picking up significantly this year, M2 velocity--the ratio of nominal GDP to M2--rose about 1-1/2 percent at an annual rate in the first quarter of 2002, in sharp contrast to the large declines registered throughout 2001.

<! P45>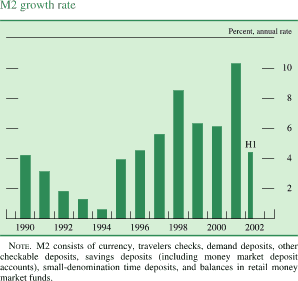 <! P46>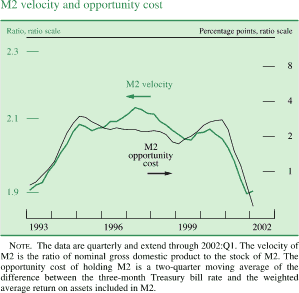 M3--the broadest monetary aggregate--grew 3-1/2 percent at an annual rate through the first six months of the year after rising 12-3/4 percent in 2001. Most of this deceleration, apart from that accounted for by M2, resulted from the weakness of institutional money market funds, which declined slightly, after having surged about 50 percent last year. Yields on these funds tend to lag market yields somewhat, and so the returns on the funds, like those on many M2 assets, became less attractive as their yields caught up with market rates.

<! P47>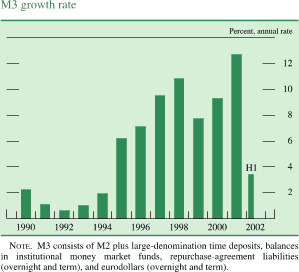 International Developments
Signs that economic activity abroad had reached a turning point became clearer during the first half of 2002, but recovery has been uneven and somewhat tepid on average in the major foreign industrial countries. Improving conditions in the high-tech sector have given a boost to some emerging-market economies, especially in Asia, but several Latin American economies have been troubled by a variety of adverse domestic developments. Foreign financial markets became increasingly skittish during the first half of the year amid worries about global political and economic developments, including concerns about corporate governance and accounting triggered by U.S. events. Oil prices reversed a large part of their 2001 decline.

During the first half, monetary authorities in some foreign countries where signs of recovery were most evident and possible future inflation pressures were becoming a concern--Canada, Australia, New Zealand, and Sweden, among others--began to roll back a portion of last year's easing, raising expectations that policy tightening might become more widespread. However, policy was held steady at the European Central Bank (ECB) and the Bank of England. The Bank of Japan (BOJ) maintained short-term interest rates near zero and kept balances of bank deposits at the BOJ at elevated levels. Yield curves in most foreign industrial countries became a bit steeper during the first quarter as long-term rates rose in reaction to news suggesting stronger U.S. growth and improving prospects for global recovery. Since then, long-term rates have edged lower, on balance, in part as investors shifted out of equity investments. Foreign equities performed well in most countries early in the year, but share prices in many countries have fallen since early in the second quarter--in some cases more steeply than in the United States. The broad stock indexes for the major industrial countries are down since the beginning of the year, except in Japan, where stock prices, on balance, are about unchanged. High-tech stocks have been hit especially hard.

<! P48>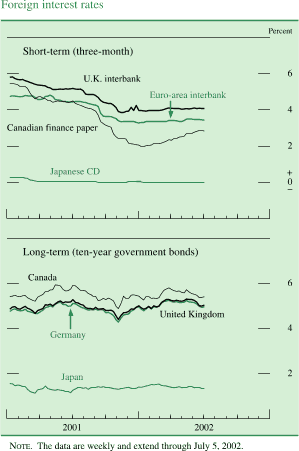 <! P49>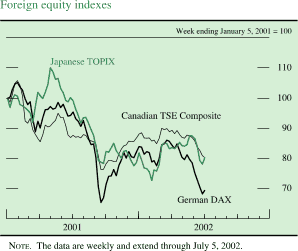 During the first quarter of 2002, the foreign exchange value of the dollar (measured by a trade-weighted index against the currencies of major industrial countries) appeared to react primarily to shifting market views about the relative strength of the U.S. recovery and its implications for the timing and extent of future monetary tightening. Despite some fluctuations in this period, the dollar stayed fairly close to the more than sixteen-year high reached in January. In the second quarter, however, the dollar trended downward as earlier market enthusiasm about U.S. recovery dimmed. Concerns about profitability, corporate governance, and disclosure at U.S. corporations appeared to dampen the attraction of U.S. securities to investors, as did worries that the United States was particularly vulnerable to the consequences of global geopolitical developments. With U.S. investments perceived as becoming less attractive, the financing requirements of a large and growing U.S. current account deficit also seemed to emerge as a more prominent negative factor. The dollar has lost more than 9 percent against the major currencies since the end of March and is down, on balance, more than 8 percent so far in 2002. In contrast, the dollar has gained about 2 percent this year, on a weighted-average basis, against the currencies of our other important trading partners.

The dollar's exchange rate against the Japanese yen was quite volatile in the first half and, on balance, the dollar has fallen more than 10 percent since the beginning of the year. Although Japan's domestic economy continued to struggle with deflation and severe structural problems, including mounting bad loans in the financial sector and growing bankruptcies, some indicators (including strong reported first-quarter GDP, a firming of industrial production, and a somewhat better reading on business sentiment in the BOJ's second-quarter Tankan survey) suggested that a cyclical recovery has begun. The yen's rise occurred despite downgradings of Japan's government debt by leading rating services in April and May and several episodes of intervention sales of yen in foreign exchange markets by Japanese authorities in May and June. Japanese stock prices, which had fallen to eighteen-year lows in early February, turned up later as economic prospects became less gloomy. At midyear, the TOPIX index was about where it was at the start of the calendar year.

<! P50>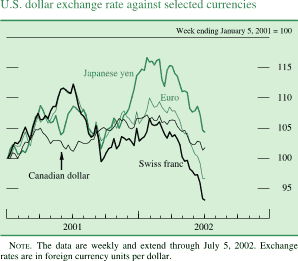 After declining in the final quarter of 2001, euro-area GDP appears to have increased in the first half, though at only a modest rate. Exports firmed and inventory destocking appeared to be winding down, but consumption remained weak. The pace of activity varied across countries, with growth in Germany--the euro area's largest economy--lagging behind. Despite lackluster area-wide growth, concerns about inflation became increasingly prominent. For most of the first half, euro-area headline inflation persisted at or above the ECB's 2 percent target limit, partly on higher energy and food price inflation; even excluding the effects of those two components, inflation picked up somewhat during the period. Inflation concerns also were fanned by difficult labor market negotiations this spring, but the strength of the euro may blunt inflationary pressures to some extent. The new euro notes and coins were introduced with no noticeable difficulties at the beginning of the year, but the euro drifted down against the dollar for several weeks thereafter. Since then, however, the euro has reversed direction and moved steadily higher. On balance, the dollar has lost nearly 11 percent against the euro so far in 2002.

The United Kingdom seemed to weather last year's slump better than most industrial countries, as strength in consumption counteracted weakness in investment and net exports, though growth did weaken in the last quarter of 2001 and into the first quarter of 2002. Notable increases in industrial production and continued strength in the service sector indicate that growth picked up in the second quarter. Household borrowing has increased briskly, supported by rapid increases in housing prices, and unemployment rates remain near record lows. At the same time, retail price inflation has remained below the Bank of England's 2-1/2 percent target. Sterling has fallen nearly 5 percent against the euro since the beginning of the year, while it has gained more than 6 percent against the dollar. Elsewhere in Europe, the exchange value of the Swiss franc has been driven up by flows into Swiss assets prompted in part by uncertainties about global political developments. The Swiss National Bank eased its official rates in May to counteract this pressure and provide support for the Swiss economy.

Economic recovery appears to be well under way in Canada. Real GDP increased 6 percent at an annual rate in the first quarter, and other indicators point to continued strong performance in the second quarter. Canadian exports--particularly automotive exports--benefitted early in the year from the firming of U.S. demand, but the expansion has become more widespread, and employment growth has been strong. Although headline consumer price inflation has remained in the bottom half of the Bank of Canada's target range of 1 percent to 3 percent, core inflation has crept up this year. In April, the Bank of Canada increased its overnight rate 25 basis points, citing stronger-than-expected growth in both the United States and Canada, and it increased that rate again by the same amount in June. The Canadian dollar, which had been at a historically low level against the U.S. dollar in January, moved up quite steeply in the second quarter and has gained about 5 percent for the year so far.

The Mexican economy was hit hard by the global slump in 2001 and especially by the weaker performance of the U.S. economy. Mexican exports stabilized early this year as U.S. activity picked up, and other indicators also now suggest that the Mexican economy is beginning to recover. In February, despite the weak level of activity at the time, the Bank of Mexico tightened monetary policy to keep inflation on track to meet its 4-1/2 percent target for 2002, and the Mexican peso moved up a bit against the dollar during February and March. In April, with inflation apparently under control, the central bank eased policy, and since then the peso has moved down substantially. Against the dollar, the decline since the beginning of the year has amounted to almost 7 percent. After rising through April, Mexican share prices also fell sharply, leaving them at midyear about unchanged from their end-2001 levels.

<! P51>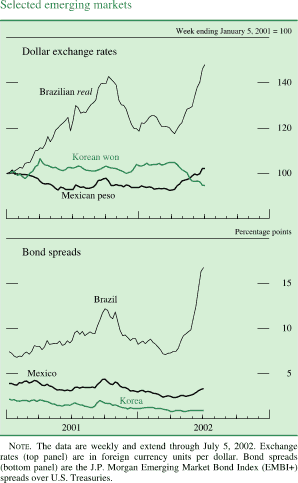 Financial and economic conditions deteriorated significantly in Argentina this year. The Argentine peso was devalued in January and then allowed to float in early February; since then, it has lost more than 70 percent of its value versus the dollar. The peso's fall severely strained balance sheets of Argentine issuers of dollar-based obligations. Various stop-gap measures intended to restrict withdrawals from bank accounts and to force conversion of dollar-denominated loans and deposits into peso-denominated form put banks and depositors under further stress. Meanwhile, economic activity has continued to plummet, and the government has struggled to gain support for reforms that would address chronic fiscal imbalances. Since late 2001, the government has been servicing its obligations only to its multilateral creditors, and spreads on Argentina's international debt have soared to more than 65 percentage points.
In recent months financial markets elsewhere in the region have become more volatile. Brazilian markets have been roiled by political uncertainties related to national elections coming in the fall. Attention has focused on vulnerabilities associated with Brazil's large outstanding stock of debt, much of which is short-term. Since April, the value of the real against the dollar has fallen nearly 20 percent, and Brazilian spreads have widened substantially. Several other South American countries, including Uruguay and Venezuela, also have been beset by growing financial and economic problems.
Asian economies that rely importantly on exports of computers and semiconductors (Korea, Singapore, Malaysia, and Taiwan) have grown quite vigorously so far this year, a buoyancy reflecting in part the recent turnaround of conditions in the technology sector and stronger U.S. growth. The currencies of several countries of this group have moved up against the dollar. In Korea, the expansion has been more broad-based, as domestic demand was fairly resilient during the recent global downturn and has remained firm. China, which is less dependent on technology exports, has continued to record strong growth as well. Other countries in the region also have started to recover from steep slowdowns or contractions in 2001, although Hong Kong has continued to be troubled by the collapse of property prices. Most stock markets in the region have recorded gains so far this year.