The Board Room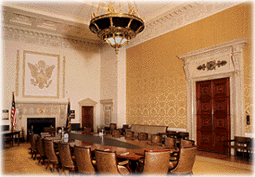 The two-story chandeliered Board Room, the meeting place of the Board of Governors of the Federal Reserve System and of the Federal Open Market Committee, is the most important room in the Eccles Building. The integrity of the room's original interior design as executed by Paul Cret, the architect of the Eccles Building, has been preserved to the present day. The Board Room was refurbished in 1978 and comprehensively renovated in 1995.
The room has occasionally been the site of critical meetings on issues besides those of monetary policy: Upon completion of the Eccles Building in 1937, the Board Room offered one of the most secure meeting places in Washington; it was used during World War II for two crucial war-planning conferences between the British and U.S. Chiefs of Staff.
For more information about the Eccles Building and how to visit the Federal Reserve headquarters, see Around the Board.
---
Home | About the Fed
Accessibility
Last update: January 29, 2003