The upturn in consumer energy prices in 2002 was driven by a jump in crude oil prices. Gasoline prices increased some 25 percent from December 2001 to December 2002; prices of fuel oil increased considerably as well. By contrast, consumer prices of natural gas posted only a modest rise after declining sharply in 2001, and electricity prices moved lower. More recently, the rise in crude oil prices since mid-December, together with cold weather, has increased the demand for natural gas and has led to higher spot gas prices; the higher spot prices for both oil and gas are likely to be boosting consumer energy prices early this year.
The PCE price index for food and beverages increased only 1-1/2 percent last year; the increase followed a 3 percent rise in 2001 that reflected supply-related price increases for many livestock products including beef, poultry, and dairy products. But livestock supplies had recovered by early last year, and a drought-induced selloff of cattle herds last summer pushed prices still lower.
The prices of goods other than food and energy items decelerated sharply last year. Prices for apparel, new and used motor vehicles, and a wide range of other durable goods all declined noticeably and, on average, at a faster pace than in 2001. Price increases for services were much larger than for goods and slowed less from the previous year. Both tenants' rent and the imputed rent of owner-occupied housing—categories that account for a sizable share of services—rose significantly less last year than they did in 2001. But many other services prices posted increases in 2002 that were about the same as in 2001. Information on medical prices was mixed. According to the CPI, the price of medical services continued to accelerate, rising 5-1/2 percent last year. But the increase in the PCE measure of medical services prices was less than 3 percent, a smaller increase than in 2001. One reason for this difference is that the prices of services paid for by Medicare and Medicaid are included in the PCE index but not in the CPI (because services provided by Medicare and Medicaid do not represent out-of-pocket costs to consumers and so are outside of the CPI's scope), and Medicare reimbursement rates for physicians were reduced last year.
Despite the acceleration in medical prices in the CPI but not in the PCE price index, the CPI excluding food and energy decelerated notably more than did the core PCE price index between 2001 and 2002. The two price measures differ in a number of respects, but much of last year's greater deceleration in the CPI can be traced to the fact that the CPI suffers from a form of "substitution bias" that is not present in the PCE index. The CPI, being a fixed-weight price index, overstates increases in the cost of living because it does not adequately take into account the fact that consumers tend to substitute away from goods that are rising in relative price; by contrast, the PCE price index does a better job of taking this substitution into account. Last year, the Bureau of Labor Statistics began to publish a new index called the chained CPI; like the PCE price index, the chained CPI does a more complete job of taking consumer substitution into account, but it is otherwise identical to the official CPI. In 2001, an unusually large gap between increases in the official CPI and the chained CPI arose, pointing to very large substitution bias in the official CPI in that year. This gap narrowed in 2002, indicating that substitution bias declined between the two years. (Final estimates of the chained CPI are not yet available; the currently available data for both 2001 and 2002 are preliminary and subject to revision.)
Survey measures of expected inflation generally ran a little lower in 2002 than in 2001. According to the Michigan SRC, median one-year inflation expectations plummeted after the September 11 attacks, but by early 2002, expectations returned to the 2-3/4 percent range that had prevailed during the previous summer. These expectations gradually moved lower over the course of last year and now stand around 2-1/2 percent. Meanwhile, the Michigan SRC's measure of five- to ten-year inflation expectations remained steady at about 2-3/4 percent during 2002, a rate a little lower than the 3 percent inflation expectations that had prevailed through most of 2001.
U.S. Financial Markets
Developments in financial markets last year were shaped importantly by sharp declines, on net, in equity prices and most long-term interest rates and by periods of heightened market volatility. In contrast to 2001, when the Federal Reserve eased the stance of monetary policy eleven times, last year saw one reduction in the intended federal funds rate—in early November—and interest rates on short-term Treasury securities had moved little until then. Longer-term interest rates, by contrast, were more volatile. Investors' optimism about future economic prospects pressured longer-term Treasury bond yields higher early in 2002. But as the year progressed, that optimism faded when the economy failed to gather much momentum, and longer-term Treasury yields ended the year appreciably lower. Softer-than-expected readings of the economic expansion, a marked deterioration in corporate credit quality, concerns about corporate governance, and heightened geopolitical tensions made investors especially wary about risk. Lower-rated firms found credit substantially more expensive, as risk spreads on speculative-grade debt soared for most of the year before narrowing somewhat over the last few months. Even for higher-quality firms, risk spreads widened temporarily during the tumultuous conditions that prevailed in financial markets over the summer. In addition, commercial banks tightened standards and terms for business borrowers, on net, in 2002, and risk spreads on business loans remained in an elevated range throughout the year. Increased caution on the part of investors was particularly acute in the commercial paper market, where the riskiest issuers discontinued their programs.
Federal borrowing surged last year, while private borrowing was held down by the significantly reduced credit needs of business borrowers. Declines in longer-term interest rates during the first half of the year created incentives for both businesses and households to lock in lower debt-service obligations by heavily tapping corporate bond and home mortgage markets, respectively. While mortgage borrowing remained strong, businesses sharply curtailed their issuance of longer-term debt during the second half of 2002 amid the nervousness then prevailing in the financial markets.
Interest Rates
Reflecting an unchanged stance of monetary policy over most of last year, short-term market interest rates moved little until early November, when the FOMC lowered the target federal funds rate 1/2 percentage point, and other short-term interest rates followed suit. Yields on intermediate- and long-term Treasury securities, by contrast, declined as much as 1-1/2 percentage points, on net, in 2002. Longer-term interest rates began last year under upward pressure, as signs that the economy had bottomed out started to nudge rates higher in the final weeks of 2001. Positive economic news pushed interest rates up appreciably further during the first quarter of 2002. The increase in longer-term interest rates was consistent with the sharp upward tilt of money market futures rates, which suggested that market participants expected that the FOMC would almost double the intended level of the funds rate by year's end. However, as readings on the strength of the economic expansion came in on the soft side, investors substantially trimmed their expectations for policy tightening, and yields on longer-term Treasury securities turned down in the spring.

<! P38>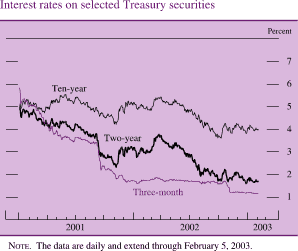 The slide in longer-term Treasury yields intensified over the summer amid weaker-than-expected economic data, heightened geopolitical tensions, fresh revelations of corporate malfeasance, and disappointing news about near-term corporate profits. In concert, these developments prompted investors to mark down their expectations for economic growth and, consequently, their anticipated path for monetary policy. A widespread retrenchment in risk-taking sent yields on speculative-grade corporate bonds sharply higher and kept those on the lower rungs of investment grade from declining, even as longer-term nominal Treasury yields fell to very low levels by the end of July.

The uneventful passing of the Securities and Exchange Commission's August 14 deadline for officers of large companies to certify corporate financial statements somewhat assuaged investors' anxieties about corporate governance problems. But subsequent news suggesting that the economy was losing momentum and a flare-up in tensions with Iraq further boosted demand for Treasury securities. The FOMC's decision at the August meeting—to leave the intended federal funds rate unchanged but to judge the balance of risks to the outlook as weighted toward economic weakness—pulled the expected path of the funds rate lower, and longer-term Treasury yields sank to forty-year lows in early autumn. A high degree of investor uncertainty about the future path of monetary policy was evidenced by implied volatilities of short-term interest rates derived from option prices, which soared to record levels in early autumn. The size of the FOMC's November cut in the target federal funds rate and the shift to balance in its assessment of risks surprised market participants, but the policy easing appeared to lead investors to raise the odds that the economy would pick up from its sluggish pace. Generally positive economic news and rising equity prices over the remainder of the year also bolstered confidence and prompted market participants to mark up the expected path for monetary policy and push up longer-term Treasury yields.

<! P39>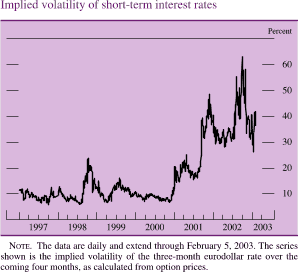 Yields on higher-quality investment-grade corporate bonds generally tracked those on Treasuries of comparable maturity last year, although risk spreads on these instruments widened moderately over the summer and early autumn before narrowing over the remainder of the year. Interest rates on below-investment-grade corporate debt, by contrast, increased for much of last year, as spreads over Treasuries ballooned in response to mounting concerns about corporate credit quality, historically low recovery rates on defaulted bonds, and revelations of improper corporate governance; credit risk spreads widened in all speculative sectors but especially in telecom and energy. By the summer, investors' retreat from risk-taking had widened bid-asked spreads in the corporate bond market enough to impair trading. Risk spreads on speculative-grade bonds narrowed considerably over the year's final quarter and in early 2003, though they remain elevated by historical standards; risk spreads for the weaker speculative-grade credits remain exceptionally wide, as investors evidently anticipate a continued high level of defaults and low recovery rates.

<! P40>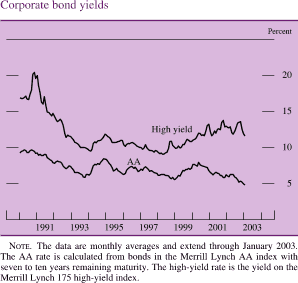 Equity Markets
Equity prices were buffeted last year by considerable fluctuations in investors' assessments of the outlook for the economy and corporate earnings and by doubts about the quality and transparency of corporate balance sheets. Net declines in stock prices in 2002 exceeded those posted during either of the preceding two years. Worries about the pervasiveness of questionable corporate governance and a deterioration in the earnings outlook—especially in the technology sector—depressed equity prices in early 2002. The positive tenor of economic data, however, managed to outweigh those concerns, and stock prices staged a rally halfway through the first quarter, with the gains tilted toward "old economy" firms. But the rebound was short lived. Share prices started to tumble in early spring across all sectors as weaker-than-expected economic data eroded investors' confidence in the strength of the economic expansion. These developments were reinforced by first-quarter corporate earnings reports that, though mostly matching or exceeding investors' expectations, painted a bleak picture of prospective sales and profits.

<! P41>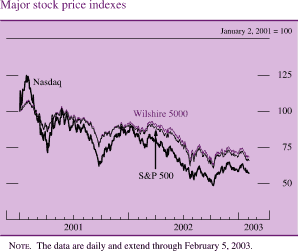 Over the spring and summer, accounting scandals, widespread warnings about near-term corporate profitability, and heightened geopolitical tensions intensified the slide in stock prices. Particularly large declines in share prices were posted for technology firms, whose prospects for sales and earnings were especially gloomy. Equity prices were boosted briefly by the uneventful passing of the August 14 deadline to certify financial statements, but they quickly reversed course on continued concerns about the pace of economic growth and corporate earnings and the escalating possibility of military action against Iraq. By early October, equity indexes sank to their lowest levels since the spring of 1997, and implied stock price volatility on the S&P 100 surged to its highest reading since the stock market crash of 1987. The drop in stock prices widened the gap between the expected year-ahead earnings-price ratio for the S&P 500 and the real ten-year Treasury yield—one simple measure of the equity premium—to levels not seen since the mid-1990s.

<! P42>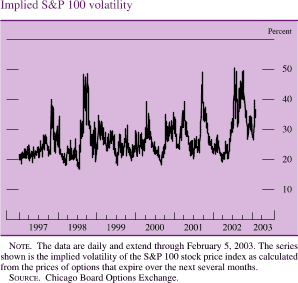 <! P43>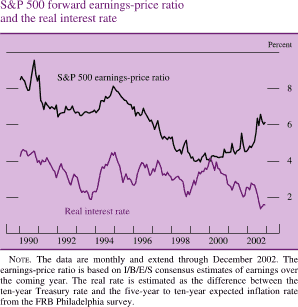 Share prices turned around in late October, as the third-quarter corporate earnings reports were not as weak as investors had originally feared. Equity prices were also given a boost in early November by the larger-than-expected monetary policy easing, and the rally was sustained over the remainder of the year by the generally encouraging tone of economic data. Greater confidence among investors in the economic outlook also helped bring down the implied volatility on the S&P 100 significantly by year-end, although it remains at an elevated level by historical standards. Despite the fourth-quarter rebound, broad equity indexes were down, on net, about 20 percent in 2002, while the tech-heavy Nasdaq lost more than 30 percent.
The decline in equity prices during the first three quarters of 2002 is estimated to have erased more than $3-1/2 trillion in household wealth, a loss of nearly 9 percent of total household net worth, although the fourth-quarter rise in stock prices restored about $600 billion. Still, the level of household net worth at the end of last year was more than 40 percent higher than it was at the start of the bull market in 1995. Equity prices maintained their upward momentum during the first half of January 2003 but then fell sharply amid the looming prospects of military action against Iraq and a still-gloomy outlook for corporate earnings. Broad stock price indexes have lost almost 5 percent this year; however, solid fourth-quarter earnings from many prominent technology companies helped brighten investors' sentiment regarding that sector, and the Nasdaq is down about 3 percent this year.