---
Does Health Affect Portfolio Choice?
---
Keywords: Household portfolios, Health, Risk
Abstract:
Previous studies find a strong and positive empirical connection between health status and the share of risky assets held in household portfolios. But is this relationship truly causal, in the sense that households respond to changes in health by altering their portfolio allocation, or does it simply reflect unobserved differences across households? We find that most of the variation by health is on the extensive margin of stock ownership (rather than the marginal allocation conditional on ownership), which more plausibly points to non-causal explanations. Moreover, we find that any link between health and risky assets depends crucially on the econometric treatment of unobserved heterogeneity. Once we account adequately for unobserved household differences, there is no longer a statistically significant relationship between any of our health measures and household portfolio decisions.
---
JEL classification: G11; I10
The Journal of Banking and Finance, 30, 1201-1217.
"Neighbors Matter: Causal Community Effects and Stock Market Participation," forthcoming in Journal of Finance.
"Analysis of Covariance with Qualitative Data,"
Review of Economic Studies, 47, 225-238.
"Panel Data," in
Handbook of Econometrics, ed. by Z. Griliches, and M. Intrilligator, chap. Panel Data, pp. 1247-1318. North-Holland, Amsterdam.
"The Portfolio Choice of European Elderly Households," Manuscript. "How Household Portfolios Evolve After Retirement: The Effect of Aging and Health Shocks,"
NBER Working Paper No. 12391.
"Health Shocks and Consumption Among Elderly U.S. Households," Manuscript. "Optimal Portfolio Choice Under State-Dependent Utility," Manuscript.
"Health Risk and Portfolio Choice," forthcoming in Journal of Business and Economic Statistics.
"On the Distribution and Dynamics of Health Care Costs,"
Journal of Applied Econometrics, 19, 705-721.
"Sample Selection Bias as a Specification Error,"
Econometrica, 47(1), 153-161.
"Precautionary Motives and Portfolio Decisions,"
Journal of Applied Econometrics, 18, 61-77.
"Social interaction and stock-market participation,"
Journal of Finance, 59, 137-163.
"Trimmed LAD and Least Squares Estimation of Truncated and Censored Regression Models with Fixed Effects,"
Econometrica, 60(3), 533-565.
"Estimation of Panel Data Models with Two-sided Censoring," Manuscript.
"Taxation of Labor Income and the Demand for Risky Assets,"
International Economic Review, 41, 801-832.
"Estimation of a Panel Data Sample Selection Model,"
Econometrica, 65(6), 1335-1364.
"Should the Old Play it Safe? Portfolio Choice with Uncertain Medical Expenses," manuscript. "Do Households Have Enough Wealth for Retirement?,"
Federal Reserve Board Finance and Economics Discussion Series 2007-17.
"Portfolio Choice and Health Status,"
Journal of Financial Economics, 72, 457-484.
"Savings, Portfolio Choice, and Retirement Expectations," University of Michigan Retirement Research Center WP 2006-119. "Towards an Explanation of Household Portfolio Choice Heterogeneity: Nonfinancial Income and Participation Cost Structures,"
NBER Working Paper No. 8884.
Econometric Analysis of Cross Section and Panel Data. MIT Press.
Figure 1: Share of Stocks in Financial Portfolio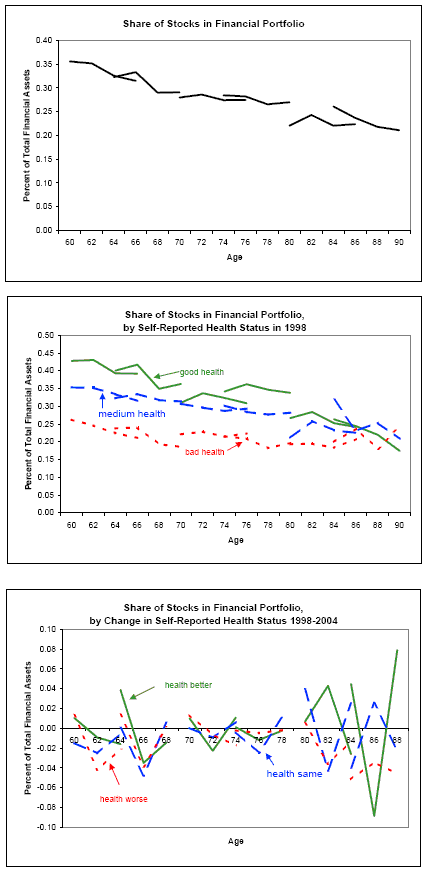 ---
---