Economic

Research & Data

Economists at the Federal Reserve Board conduct innovative research on a broad range of topics in economics and finance. In addition to presenting their research to policymakers, Board economists share their research at academic conferences and publish it in peer-reviewed journals and other scholarly outlets.
The Enhanced Financial Accounts initiative is an ambitious and long-term effort to augment the Financial Accounts of the United States with a more detailed picture of financial intermediation and interconnections.
Etienne Gagnon, Benjamin K. Johannsen, and David Lopez-Salido
Since the onset of the Great Recession, the U.S. economy has experienced low real GDP growth and low real interest rates, including for long maturities.
Sylvain Leduc, Kevin Moran and Robert J. Vigfusson
We show that a model where investors learn about the persistence of oil-price movements accounts well for the fluctuations in oil-price futures since the late 1990s.
Overnight rates for AA nonfinancial, A2/P2 nonfinancial, AA financial, and AA asset-backed commercial paper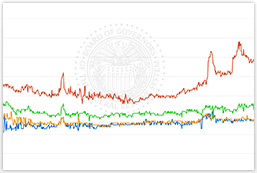 Interactive Tools and Guides
Last update: January 17, 2017