Economic

Research & Data

Economists at the Federal Reserve Board conduct innovative research on a broad range of topics in economics and finance. In addition to presenting their research to policymakers, Board economists share their research at academic conferences and publish it in peer-reviewed journals and other scholarly outlets.
The Enhanced Financial Accounts initiative is an ambitious and long-term effort to augment the Financial Accounts of the United States with a more detailed picture of financial intermediation and interconnections.
Andrea De Michelis and Matteo Iacoviello
This paper draws from Japan's recent monetary experiment to examine the effects of an increase in the inflation target during a liquidity trap.
Robert B. Kahn and Ellen E. Meade
In this paper, we discuss the evolution of central bank interactions since the early 1970s following the breakdown of the managed exchange-rate system that was negotiated at Bretton Woods.
Overnight rates for AA nonfinancial, A2/P2 nonfinancial, AA financial, and AA asset-backed commercial paper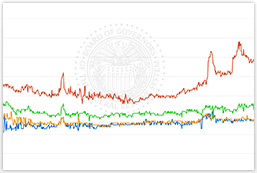 Interactive Tools and Guides
Last update: December 5, 2016