Economic

Research & Data

Economists at the Federal Reserve Board conduct innovative research on a broad range of topics in economics and finance. In addition to presenting their research to policymakers, Board economists share their research at academic conferences and publish it in peer-reviewed journals and other scholarly outlets.
The Enhanced Financial Accounts initiative is an ambitious and long-term effort to augment the Financial Accounts of the United States with a more detailed picture of financial intermediation and interconnections.
Stekler and Symington (2016) construct indexes that quantify the Federal Open Market Committee's views about the U.S. economy, as expressed in the minutes of the FOMC's meetings.
Filippo Curti and Marco Migueis
Operational risk models, such as the loss distribution approach, frequently use past internal losses to forecast operational loss exposure.
Overnight rates for AA nonfinancial, A2/P2 nonfinancial, AA financial, and AA asset-backed commercial paper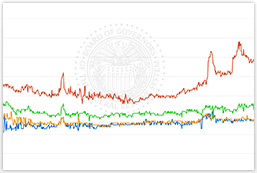 Careers

Working at the Board

The Congress has entrusted the Federal Reserve with great responsibilities. In every phase of our work and decisionmaking, we consider the well-being of the American people and the prosperity of our nation.

Chair Janet L. Yellen
Interactive Tools and Guides
Last update: May 23, 2016