Economic

Research & Data

Economists at the Federal Reserve Board conduct innovative research on a broad range of topics in economics and finance. In addition to presenting their research to policymakers, Board economists share their research at academic conferences and publish it in peer-reviewed journals and other scholarly outlets.
The Enhanced Financial Accounts initiative is an ambitious and long-term effort to augment the Financial Accounts of the United States with a more detailed picture of financial intermediation and interconnections.
Ozge Akinci and Jane Olmstead-Rumsey
In recent years, policymakers have generally relied on macroprudential policies to address financial stability concerns.
Ekaterina V. Peneva and Jeremy B. Rudd
We use a time-varying parameter/stochastic volatility VAR framework to assess how the passthrough of labor costs to price inflation has evolved over time in U.S. data.
Overnight rates for AA nonfinancial, A2/P2 nonfinancial, AA financial, and AA asset-backed commercial paper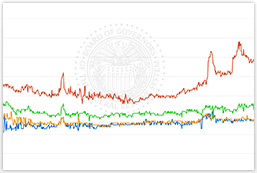 Careers

Working at the Board

The Congress has entrusted the Federal Reserve with great responsibilities. In every phase of our work and decisionmaking, we consider the well-being of the American people and the prosperity of our nation.

Chair Janet L. Yellen
Principal Economic Indicators

Household Finance

Consumer Credit - G.19

Industrial Activity

Industrial Production and Capacity Utilization - G.17

Money Stock and Reserve Balances

Factors Affecting Reserve Balances - H.4.1

Money Stock and Reserve Balances

Money Stock Measures - H.6
Interactive Tools and Guides
Last update: October 9, 2015