Economic

Research & Data

Economists at the Federal Reserve Board conduct innovative research on a broad range of topics in economics and finance. In addition to presenting their research to policymakers, Board economists share their research at academic conferences and publish it in peer-reviewed journals and other scholarly outlets.
The Enhanced Financial Accounts initiative is an ambitious and long-term effort to augment the Financial Accounts of the United States with a more detailed picture of financial intermediation and interconnections.
Jose Berrospide, Ricardo Correa, Linda Goldberg, and Friederike Niepmann
Domestic prudential regulation can have unintended effects across borders and may be less effective in an environment where banks operate globally.
Marcelo Rezende, Mary-Frances Styczynski, and Cindy M. Vojtech
We estimate the effects of the liquidity coverage ratio (LCR), a liquidity requirement for banks, on the tenders that banks submit in Term Deposit Facility operations, a Federal Reserve tool created to manage the quantity of bank reserves.
Overnight rates for AA nonfinancial, A2/P2 nonfinancial, AA financial, and AA asset-backed commercial paper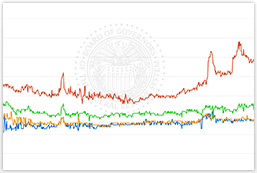 Interactive Tools and Guides
Last update: February 27, 2017