---
Finance and Economics Discussion Series: 2012-55 Screen Reader version
♣
Estimating Changes in Supervisory Standards
and Their Economic Effects
---
Keywords: CAMELS ratings, bank supervision and regulation, financial frictions.
Abstract:
The disappointingly slow recovery in the U.S. from the recent recession and financial crisis has once again focused attention on the relationship between financial frictions and economic growth. With bank loans having only recently started growing and still sluggish, some bankers and borrowers have suggested that unnecessarily tight supervisory policies have been a constraint on new lending that is hindering recovery. This paper explores one specific aspect of supervisory policy: whether the standards used to assign commercial bank CAMELS ratings have changed materially over time (1991-2011). We show that models incorporating time-varying parameters or economy-wide variables suggest that standards used in the assignment of CAMELS ratings in recent years generally have been in line with historical experience. Indeed, each of the models used in this analysis suggests that the variation in those standards has been relatively small in absolute terms over most of the sample period. However, we show that when this particular aspect of supervisory stringency becomes elevated, it has a noticeable dampening effect on lending activity in subsequent quarters.
JEL Classification: G21, G28, L25
---
The financial crisis that began in mid 2007 and continued well into 2009 has sparked renewed interest in the channels through which changes in the cost and availability of credit are linked to economic performance, as well as the magnitudes of the effects generated by such financial frictions. Particular attention regularly focuses on the unique role of commercial banks in the financial system, in large part because they are often viewed as the most efficient or sometimes the sole providers of credit to many households and small businesses. For instance, Lown and Morgan (2006) showed that changes in bank lending standards have important macroeconomic effects, and Bassett, Chosak, Driscoll, and Zakrajsek (2010) document the large contractionary shock to lending standards during the recent financial crisis and its material effects on lending and GDP.
The excesses of the mid-2000s that contributed importantly to the crisis left many commercial banks in a significantly weakened state that resulted in downgrades of their supervisory ratings over the 2007 to 2009 period. The share of banks that supervisors consider "weak" remains elevated to this day, and the pace of decline in the share of weak banks has lagged significantly behind the pace seen following the banking crisis of the early 1990s, despite noticeable improvements in banking conditions since the height of the financial crisis. Moreover, as in the recession and slow recovery in the early 1990s, weak banks have contributed disproportionately to the contraction in loans over the past several years (exhibit 1). In addition, Peek, Rosengren, and Tootell (2003b) identify loan supply shocks by the fraction of banks that receive the worst supervisory risk rating, and find that this measure is important in explaining inventory movements, the component of GDP most dependent on bank lending, from 1978 to 1998. Two earlier papers by the same authors argue that exploiting such confidential supervisory information generates important synergies in the Federal Reserve's monetary policymaking process by allowing the FOMC to account for potential swings in credit supply in setting interest rates (Peek, Rosengren, and Tootell (1999) and Peek, Rosengren, and Tootell (2003a)). Therefore, if CAMELS ratings are currently unduly stringent, then supervisors could be a source of headwinds in the economy.
To be sure, banks continue to face ongoing, heightened scrutiny of their risk management practices by both supervisors and market participants as they also adjust to a host of new regulations. Among the vast array of financial regulatory reforms required under the Dodd-Frank Act and Basel III, one important goal is to provide a framework for enhanced macroprudential supervision of financial institutions. As part of that goal, regulators are more closely considering the potential feedback loops between bank supervision and the broader economy. For instance, a common refrain is that the worst performing loans are made during the late stages of economic expansions, in part because banks and regulators have become less attuned to risks (Berger and Udell (2004)). A corollary might be that many good loans are not made during and shortly after the end of economic downturns because risk aversion lingers too long.
Exhibit 1: CAMELS Ratings and Loan Growth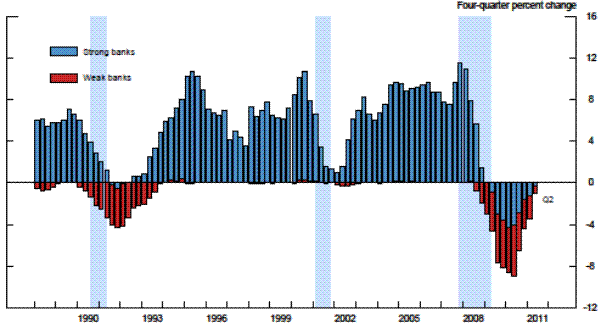 Figure 1 Data
Note: Strong banks have CAMELS ratings of 1 or 2; weak banks have CAMELS ratings of 3, 4, or 5. Shaded lines represent recessions as identified by the NBER.
Source. Call Reports, FFIEC.
Recognizing these parallel risks, the new regulations seek to ensure that banks retain adequate capital and liquidity cushions to support lending. In particular, they include provisions directing supervisors to implement a countercyclical capital buffer that will lean against additional lending during a boom and support lending during a downturn. But, capital standards and other quantitive measures of bank health are importantly complemented by direct supervisory oversight of institutions and their practices. While good arguments exist against regulatory forbearance to stimulate lending during downturns, macroprudential goals might at least seek to ensure that supervisors are consistently applying these more-subjective standards through time.
Many bankers and some borrowers, particularly small businesses, have suggested that that regulators have maintained an excessive level of scrutiny of bank lending practices in recent years. Further, they note that this scruitiny is contributing to the weakness in bank lending and by extension the sluggish recovery. In response to those concerns, the federal bank regulatory agencies issued joint guidance to their examination teams and reviewed their performance to ensure that examination standards are not unduly affecting the flow of credit. In addition, the Federal Reserve has engaged in extensive community outreach and discussions with various stakeholders to identify policies and strategies that would help ensure that creditworthy borrowers have access to appropriate financing sources.
This paper considers the extent to which variation in supervisory stringency is evident in composite CAMELS ratings, the overall supervisory assessment of the conditions of banks, between the third quarter of 1991 to the second quarter of 2011. That sample period spans two eras often referred to as "credit crunch" periods--the first in the early 1990s and the most recent since the end of 2008. Importantly, such ratings are supposed to be invariant to business cycle fluctuations, instead conveying an absolute assessment of a bank's condition and risk of failure at any given point in time.
Because of the various peculiarities of the process used to assign CAMELS ratings and the relatively short time series dimension of our dataset, standard econometric models for panel data are somewhat imperfect for the task. Likely in part for that reason, most of a small existing literature attempted to model stringency using time-period fixed effects estimated from pooled cross-sectional data, and generally concluded that supervisors were more stringent in the early 1990s than during other periods. In this study, we expand upon the existing literature in three ways. First, we extend the sample used in previous studies to include the most recent financial crisis. Second, we incorporate an improved measure of local economic conditions facing the bank as well as various macroeconomic indicators and financial market variables (hereafter, "economy-wide variables") in several alternative statistical models to capture supervisory reactions not only to the bank's observed condition but also to the economic environment it faces. Third, in hopes of mitigating concerns about the potential shortcomings of any particular model, we use a variety of different panel-based econometric specifications for comparison, as well as a series of repeated cross-sectional regressions. The latter methodology has not been fully explored in the existing literature and provides greater flexibility in modeling the time variation of both the thresholds associated with a given CAMELS rating and the coefficients on the explanatory variables.
Our analysis results in three fairly robust conclusions. First, supervisory standards used in the assignment of CAMELS ratings appear to have been reasonably constant across the sample period, with some evidence that they were somewhat tighter than average during the early-1990s and in 2008. Second, the extent of stringency estimated from CAMELS ratings is somewhat model-dependent: our use of economy-wide variables instead of time fixed effects (which were used in much of the existing literature) to control for macroeconomic conditions reduces the extent of supervisory stringency commonly observed in the early 1990s and also suggests that much less stringency existed during the recent financial crisis. Third, the degree of supervisory stringency identified by our model is associated with statistically significant changes in lending standards and with changes in bank lending. Although the effects are relatively small, these results provide support for an active bank lending channel in the transmission of monetary policy.
The next section of the paper places our analysis in the context of the existing literature. The following section describes the data and specific variable definitions used in the analysis. Section 4 describes the tradeoffs involved in the methodologies used to estimate the relationship between CAMELS ratings and observed data. Section 5 describes the results of that estimation and the calculation of aggregate supervisory stringency. Section 6 explores the relationship between aggregate supervisory stringency, lending, and economic growth. Section 7 concludes.
A small number of authors have studied the extent to which bank supervisors change their standards and policies over the economic and financial cycle, with some extending the analysis to how such changes affect lending behavior (and, by extension, broader economic performance). Previous work at the commercial bank level, such as Berger, Kyle, and Scalise (2001), concluded that supervisors indeed were "tougher" during the credit crunch in the early 1990s than they were in the mid-1990s. Curry, Fissel, and Hanweck (2008) and Krainer and Lopez (2009) examine bank-holding company supervisory ratings - BOPEC ratings - over the 1987 to 2004 period and arrive at similar conclusions. Controlling for some bank balance sheet and aggregate macroeconomic variables, Bizer (1993) finds stricter supervisory standards in the 1989 to 1992 period relative to 1988 as well as an economically significant association between CAMELS ratings and loan growth. Curry, Fissel, and Ramirez (2008) also provide some evidence that bank lending was sensitive to ratings between 1985 and 1993, but then show that ratings and lending were not as intertwined in subsequent years. Finally, though they do not model supervisory ratings per se, Kiser, Prager, and Scott (2012) examine the extent to which changes in banks' CAMELS ratings are associated with changes in the rate of growth of their lending to small businesses, and find that small banks that experienced ratings downgrades between 2007 and 2010 exhibited significantly lower rates of growth in small business loans outstanding compared with banks that maintained their ratings at healthy levels during the same period.
The standard approach in most of those papers has been to model the discrete CAMELS ratings distribution within a pooled cross section using an ordered limited-dependent variable framework. The controls generally included a range of bank-specific characteristics and a set of regional indicator variables or state-level variables for local economic conditions. With the exception of Bizer (1993), who estimated bank CAMEL ratings for limited time periods separately, all of the studies incorporate time-period fixed effects, and interpret the series of coefficients on those indicator variables as the relative degree of "tightness" applied by bank supervisors over time.
However, the results of our study suggest that this approach has two critical weaknesses. First, the time fixed effects could also be picking up the response of regulators to conditions in broader financial markets or the macroeconomic environment that are not accounted for by regional or state-level control variables. If we define supervisory stringency as stricter supervisory standards than what can be explained by identifiable factors, economy-wide variables may explain an important portion of supervisory standards that were deemed "stricter" in the previous literature. Second, by construction, the time fixed effects shift each of the cutoff points simultaneously and by equal amounts across different rating categories. Therefore, the approach does not allow for standards to change differentially across the various CAMEL rating categories. For example, regulators may become stricter in assigning ratings for only the weakest set of banks. Therefore, we also devise a methodology that allows the thresholds to vary through time separately for each rating, while still incorporating economy-wide variables.
The paper combines confidential supervisory data on CAMELS ratings with bank-specific balance sheet and income items from the commercial bank Call Report. In addition, we use the annual Summary of Deposits survey data to identify the location of the branches in which banks book their deposits, and combine that information with state-level economic indicators to generate bank-specific economic conditions variables. Finally, we obtain macroeconomic and financial sector variables from a variety of commonly referenced sources. The sample begins in the third quarter of 1991, which is the first period in which we have enough quarters of data on regulatory capital ratios, a key determant of CAMELS over the past two-plus decades, to estimate all of our specifications. It ends in the second quarter of 2011, because data on CAMELS ratings sometimes enters the database with a significant lag, at times making very recent quarters unrepresentative.
For our dependent variable that describes the conditions of a bank, we use composite CAMELS ratings taken from a confidential supervisory database maintained by federal bank regulatory agencies that includes key information about the timing and scope of the exams. Banks with composite ratings of 1 or 2 are considered "strong," while banks with ratings of 3, 4, 5 are considered "weak" and subjected to increasing levels of regulatory scrutiny as they progress down the scale. So called "full-scope" exams, in which an on-site team of examiners assesses the full range of bank operations, are mandated every 12 to 18 months for strong banks (depending on a threshold of total assets), and every 6 months for weak banks.
We begin by including all commercial bank examination data that led to a designation by bank regulators (the Federal Reserve, the OCC, the FDIC, and the state agencies) of CAMELS ratings between the third quarter of 1991 and the second quarter of 2011. Sometimes a bank may have more than one exam registered in a given quarter; in those cases, the exam closest to quarter-end was used.
As shown in the second exhibit, the number of exams for a given bank in our 20 year sample varies considerably. This variation is accounted for by new commercial banks, the staggered exam schedule that depends on both the size of the bank and the previous CAMELS rating, and exits from the sample due to mergers, aquisitions and failures. The average bank in the sample has been examined about 14 times, but even when examination data for banks with fewer than five exams over the sample period are removed, about 35 percent of the banks in our sample have been examined no more than ten times.
Exhibit 3 shows the average CAMELS rating of banks examined during each quarter over the full sample period that is used in the panel data models. In addition, in order to construct relevant and large samples for our repeated cross-section analysis, we use a rolling two-year window of exams and consider only the most recent exam for each bank within that window. The average CAMELS rating for this two-year grouped data is also displayed in the top panel in the first exhibit. Each point on that line is centered two quarters from the end of the two-year window, reflecting the average date of the exams conducted during the typical subsample. The two CAMELS averages are highly correlated. Bank ratings were significantly worse than average during the credit crunch of the early 1990s and they worsened quickly and substantially during the most recent financial crisis. This pattern in the average rating reflects changes in the number of banks rated in each of the five CAMELS rating categories, as shown in the middle and bottom panels in the third exhibit.
* Strong banks are those with a CAMELS rating of 1 or 2.
** Weak banks are those with a CAMELS rating of 3, 4, or 5.
Source. Call Reports, FFIEC.
Large banks are usually reviewed in a much different manner than their smaller counterparts, including by a team of resident examiners that are in consistent contact with bank management. Further, large banks have much broader scope and complexity of their operations, much of which cannot be adequately assessed with the limited number of Call Report items that could be included in an econometric model. Therefore, we excluded from our sample any banks that are subsidiaries of the 25 largest bank holding companies in any given quarter. However, this still accounts for about 40 percent of industry loans, on average, over our sample period.
The majority of the explanatory variables are constructed from bank balance sheet and income data from the Call Reports. Those variables are are detailed in Table 1. In choosing explanatory variables, we used those bank balance sheet and income items that are closely related to the components of the CAMELS ratings.
Capital adequacy: Total risk-based capital ratio, the leverage ratio as defined in FDICIA, and the ratio of delinquencies to loan loss reserves
Asset quality: Noncurrent loan ratio, and the ratio of private security holdings (which excludes Treasuries, agency securities, and agency MBS) to total assets, the ratio of loans secured by commercial real estate (CRE) to total assets, the ratio of loans secured by residential real estate (RRE) to total assets, and the ratio of other loans (not secured by real-estate) to total assets
Management quality: Noninterest expense to revenue (net interest income plus noninterest income)
Earnings: Return on assets (ROA) and the net interest margin (NIM)
Liquidity: The ratio of core deposits to total assets and the "volatile liability dependence ratio," which measures the extent to which a bank is funding long-term investments with short-term liabilities.
Sensitivity to market risk: Return on risky assets defined as noninterest income net of deposit fees and fiduciary income divided by average total assets
As in the literature, we also include the log of total assets to account for factors such as the degree of portfolio diversification and potential to exploit scale economies, in addition to possible differences in supervisory treatment of larger institutions. For all of the balance sheet items, we use the average value of the four quarters preceding the exam, while for the income and flow items, we use four-quarter cumulative amounts scaled by relevant balance sheet or income items when necessary. All the financial ratios based on flow items are normalized by Schedule K balance sheet items (i.e., reflect the average outstandings in that item during the quarter or year, as appropriate). The financial ratios based solely on balance sheet items are based on end-of-period values with the exception of the volatile liability dependence ratio, which is more subject to quarter-end window dressing and therefore based on Schedule-K values. We use data only if it would be available to examiners at the time of the exam. If the exam began on the last day of the quarter, we assume that the examiners were able to use the data for that quarter and consider the exam to have been conducted in the following quarter.
NOTE: Impact is from one standard deviation increase in selected variables in models with economy-wide variables (rather than time-fixed effects) on a bank with a previous CAMELS rating of 3 with the median characteristics of all banks with CAMELS ratings of 3. Because lower values of CAMELS ratings are better ratings, negative impacts on CAMELS ratings implies positive impacts on supervisory assessment of banks. All listed variables are significant at the 1% level. Avg. is the average over the bank's time in the sample for bank-specific variables or the level for economy-wide variable. Dev. is difference between the the value in the current period and the average. The impact on P(CAMELS=1) and P(CAMELS=5) is negligible.
NOTE: Negative numbers represent the prediction of a better CAMELS rating than assigned.
Goodness of fit measures are shown in Table 5. The R-squareds for the bank-fixed effects and random effects linear models in the specifications with macro variables are 0.74 and 0.73, respectively. When we look at the ordered-probit models, regardless of whether we use macro variables or not, about 83 percent of actual CAMELS ratings match the rating that the model predicts is most likely. With only a few exceptions, the rest of the ratings are predicted to be different by only one notch. The strong fit of the models presages the conclusions about changes in supervisory stringency over time, as CAMELS seem to be well explained by observable characteristics of the bank and the macroeconomic environment.
Note. Aggregate bank conditions are aggregated predicted latent values (excluding thresholds) of bank conditions with macro indicators and is the sum of the risk tolerance and composition components. The risk component is adjusted with economy-wide variables.
Note. The unadjusted risk tolerance component is the risk tolerance component prior to adjustment with economy-wide variables.
Note. Banks must exceed the threshold to be acheive the particular rating. No banks were rated 5 in 1995:Q4, the threshold for that quarter is interpolated. Dotted lines represent the threshold estimates prior to adjustment with economy-wide variables.
---