---
The Credit Market Consequences of Job Displacement
---
Keywords: Job displacement, personal bankruptcy, household finance, event study
Abstract:
---
Bibliography
"Personal Bankruptcy or Public Insurance?," Federal Reserve Bank of Richmond Working Paper 03-14 2003.
"Shocks, stocks, and socks: Smoothing Consumption over a Temporary Income Loss," McMaster University, Department of Economics, Working Paper, 2003–07 2003.
"Factors Affecting an Individual's Bankruptcy Filing Decision," Purdue University working paper 1999.
"Long-Term Unemployment," Pub. No. 2765 October 2007.
"Interpreting the Great Moderation: Changes in the Volatility of Economic Activity at the Macro and Micro Levels," NBER working paper No. 14048 2008.
"The Social and Economic Impact of Native American Casinos," NBER working paper No. 9198 2002.
"Duration Dependence in Personal Bankruptcy," U.S. Department of Labor Working Paper 359 May 2002.
"Is the Bankruptcy Flag Binding? Access to Credit Markets for Post-Bankruptcy Households," American Law and Economics Association Annual Meetings Paper 28 2004.
"A Simple Test of Adverse Events and Strategic Timing Theories of Consumer Bankruptcy," NBER working paper No. 11763 2005.
"Did Household Consumption Become More Volatile?," Columbia University working paper 2007.
"Personal Bankruptcy: Analysis of Four Reports on Chapter 7 Debtors' Ability to Pay," GAO/GGD-99-103 1999.
"Value of Credit Counseling Requirement Is Not Clear," GAO-07-203 2007.
"Estimating the `True' Cost of Job Loss: Evidence using Matched Data from California 1991-2000," Columbia University working paper 2005.
"Accounting for the Rise in Consumer Bankruptcies," NBER working paper no. 13363 September 2007.
"The Reacquisition of Credit Following Chapter 7 Personal Bankruptcy," Wharton Financial Institutions Center Working Paper 99-22 1999.
"Information Technology and the Rise of Household Bankruptcy," Rice University working paper 2007.
"Consumer Durables and Risky Borrowing: the Effects of Bankruptcy Protection," Boston College Working Papers in Economics No. 573 2005.
"Trends in Men's Earnings Volatility: What Does the Panel Study of Income Dynamics Show?," Michigan State University working paper 2008.
"Mortality, Mass-Layoffs, and Career Outcomes: An Analysis using Administrative Data," NBER working paper No. 13626 November 2007.
"Rising Unemployment Duration in the United States: Causes and Consequences," Federal Reserve Bank of San Francisco working paper May 2005.
This appendix provides simulated household responses to employment shocks in an environment with a bankruptcy option. Consider a multi-period model where household income,

, is random in all periods, and when employed, log earnings follow an AR(1) process:

. Households face a risk of unemployment, in which case they receive unemployment insurance benefits,

.The risk of unemployment follows a Markov process, where the probability of staying employed, given employment in the previous period, is

and the probability of staying unemployed, given unemployment in the previous period, is
. In other words,

is the separation probability and

is the job finding probability. The values of

and

shape households' expectations of the length their employment and unemployment relationships. In the first period all households begin in the employed state.
As most household debt is shared between spouses, and most bankruptcy petitions are jointly filed, bankruptcy is treated here as a household-level decision. Bankruptcy is not allowed in period 1 but is allowed in all subsequent periods. If a household chooses to file for bankruptcy, they face three punishments in the model. First, they are constrained from the credit market in the period they file and in subsequent periods, able neither to borrow nor to save. This assumption is broadly consistent with the bankruptcy flag which appears on the filer's credit report for up to 10 years, and the potentially prohibitively high cost of obtaining credit (Musto, 1999).
Second, the household pays a portion of their earnings,

, to the bankruptcy court in the year in which they file. This garnishment is intended to represent the inability of households to hide their nonexempt assets from the bankruptcy courts. Finally, the third cost of filing is to repay a portion of the debt even in filing (

for debt service), which will be shown to be necessary for interior optimal borrowing behavior, i.e. not borrowing up to the credit limit in all periods. These costs are built into the model to best fit the real-world punishments from bankruptcy, and are adapted from previous models (see, e.g., Livshits et al. 2007a). The model does not directly incorporate the bankruptcy "stigma" as an additional cost. If stigma was hypothesized to be proportional to household earnings, then a portion of

could be interpreted as such. Similarly, if stigma was considered proportional to the amount of debt discharged, then

would reflect the cost of stigma.
Let

be the value function for a given debt (

) or asset (

) level in period

, where

is an indicator for whether the household had previously filed for bankruptcy. The maximized value function for filing for bankruptcy is given by

and not filing given by

. If households receive a positive income shock then they save,

, and earn interest

. If they experience a negative income shock, either due to a low draw from the wage distribution or from an unanticipated unemployment spell, households accumulate debt,

, with exogenously determined interest rate

charged by the bank to offset write-offs from bankruptcies. Households are assumed to be borrowing constrained up to a fraction of current income.
The model can be solved by backwards induction. The essential features of the multi-period model are described most easily in a three-period setting. In period 3, the final period, the household chooses whether or not to file for bankruptcy, giving the value function in the last period:
where the household chooses to file only when optimal to do so,

. The payoff to not filing,

, depends on behavior in the second period and the assets or debts brought forward to the final period. If the household did not file in period 2,

, then it consumes its period 3 labor income minus interest payments on borrowing (or interest income from saving):

, is period 3 wages net of garnishment minus the portion of debt which is not forgiven:

and debt service

, are less painful than repaying the debt accrued in period 2:

. If the household saved in period 2,

, then there is no benefit to filing for bankruptcy, and the household consumes all of its income and savings,

.
In period 2 (and any additional "mid-life" periods in a multiple-period setting), the decision rule is more complicated; the household chooses the amount to consume,

, or equivalently the amount to borrow or save,
, as well as whether to file for bankruptcy:
The payoff from not filing,

, is determined by the household's income draw,

, amount of borrowing or saving in the previous period,

, and the expected payoff in period 3, represented by the integral term, which is determined by expectations about the distribution of future income,

:

, also depends on expectations about future earnings. The bankrupt household consumes period 2 income net of garnishment, minus the portion of debt which is not forgiven:

, based on their income draw, but cannot file for bankruptcy:
Despite the simplicity of this three-period model, the optimal

, and

do not have analytical solutions. Thus it is necessary to select parameter values, functional forms, and simulate households' responses.
The model is simulated to provide an understanding of the household response to income and employment shocks. The qualitative insights that I highlight are captured by the optimal Bellman equation in period 2. Periods 1 and 3 in this setting are discussed in less detail, as the choices made in these periods are designed to capture the dynamic aspects of the household's period 2 decision. The predictions from the model motivate the empirical methodology used in sections IV and V.
Figure Appendix-1: The borrowing and saving decision in period 1
Figure Appendix-2: The borrowing and saving decision in period 2 - Employed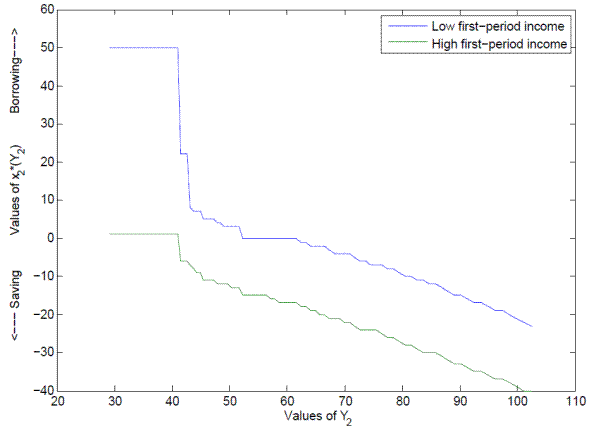 Figure Appendix-3: The bankruptcy decision in period 2 { Maximum value of Y1 which results in bankruptcy, by persistence of unemployment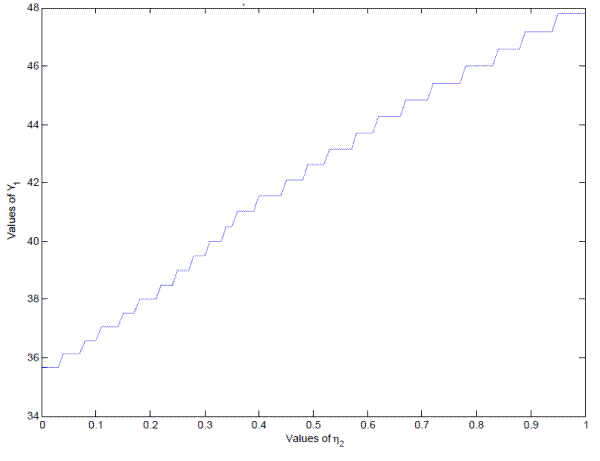 Figure Appendix- 4. Comparison of NLSY, PSID, and SCF filing rates to national filing rate, 19792002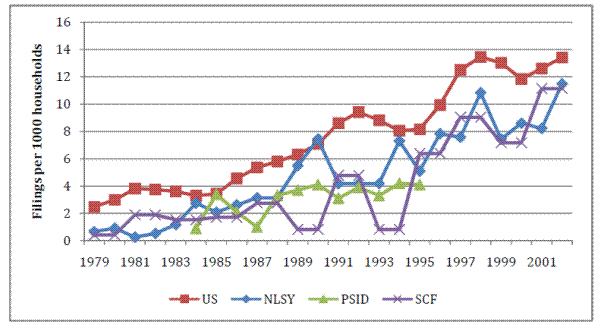 Figure Appendix-5. Total debts of bankruptcy filers, relative to nonfilers, by time of bankruptcy shock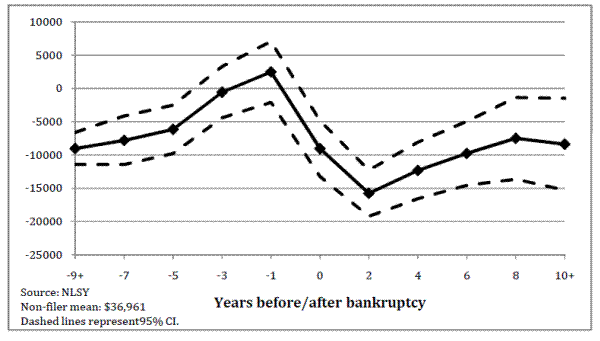 Figure Appendix-6. "Other" debts of bankruptcy filers, relative to nonfilers, by time of bankruptcy shock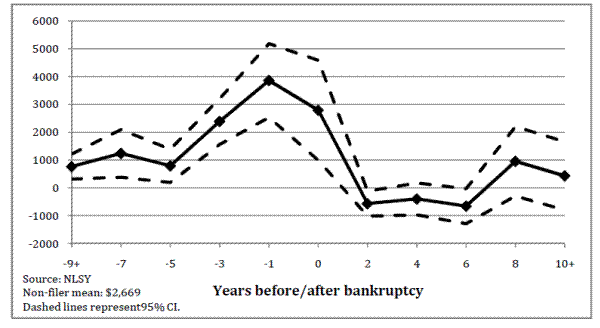 Figure Appendix-7. Homeownership rates of bankruptcy filers, relative to nonfilers, by time of bankruptcy shockFigure 7: FRB/US Gap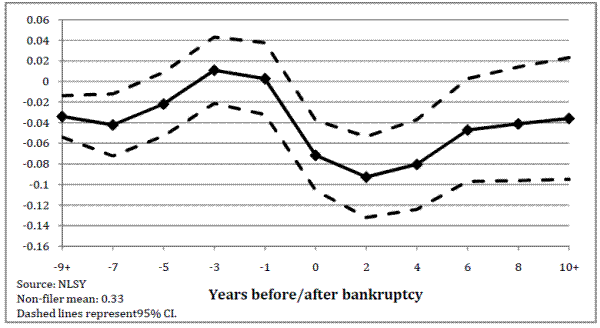 Figure 1. Probability of bankruptcy filing for men, by relative time from UI shock, NLSY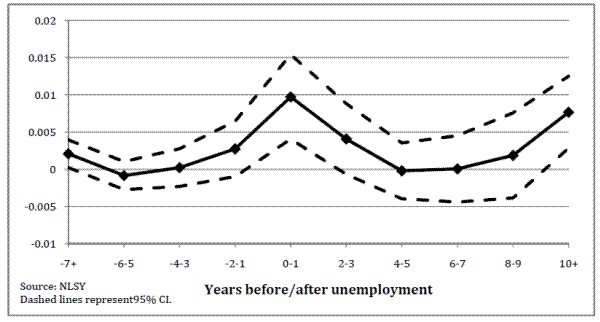 Figure 2: Probability of bankruptcy filing for women by relative time from UI shock, NLSY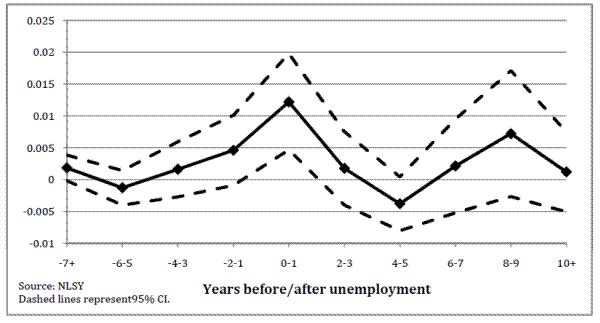 Figure 3. Probability of bankruptcy filing, by relative time from divorce, NLSY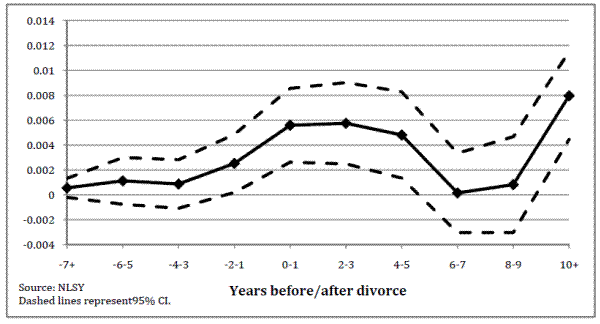 Figure 4. Probability of bankruptcy filing by relative time from disability, NLSY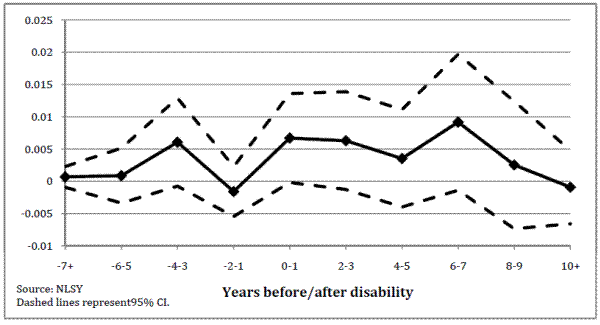 ---
---