Report to the Congress on the Office of Minority and Women Inclusion

Print
Inclusion of Minority-Owned and Women-Owned Businesses
Inclusion of Minority-Owned and Women-Owned Businesses
The Procurement Section in the Board's Division of Financial Management continued to demonstrate a strong and positive commitment to the inclusion of minority-owned and women-owned businesses (M/WOBs) in the Board's acquisition process throughout 2014. As outlined below, a comprehensive program strategy was implemented by setting forth specific actions to assist the Board in fostering relationships with these types of businesses. This strategy contains objectives and activities that are aligned with the provisions of section 342 of the Dodd-Frank Act and will help position the Board to continue to cultivate positive relationships with M/WOBs. Key elements of the program strategy include
establishing a supplier diversity policy that reaffirms the Board's commitment to equal opportunity in the acquisition process;
developing an internal and external communication plan, including the design and dissemination of informational brochures and the creation of an external website where vendors can register their companies with the Board and obtain information on upcoming procurement opportunities;
creating a vendor management system that allows Procurement to track the status of M/WOBs throughout the acquisition process;
conducting capacity-building workshops;
reviewing subcontractor plans from prime contractors; and
preparing quarterly reports for senior management that describe the status and results of the Supplier Diversity Program.
Through implementation of the program strategy and through networking with M/WOBs, Procurement has made significant progress in fostering success for those firms seeking to do business with the Board.
Contracts Awarded to Minority-Owned Businesses
During calendar year 2014, the Board awarded contracts for goods and services in the amount of $190,643,728.2 Of this total, $30,463,092, or 15.98 percent, was awarded to M/WOBs, including $14,122,354, or 7.41 percent, to minority-owned businesses and $16,340,738, or 8.57 percent, to women-owned businesses. (Awards to businesses that are both minority-owned and women-owned are counted in the minority-owned award percentages, but are not counted in the women-owned award percentages.) The total dollar value of contracts awarded to M/WOBs in 2014 represents an increase of 45 percent over contracts awarded in 2013. Figure 1 reflects the percentage of contract dollars awarded to M/WOBs over the past three years.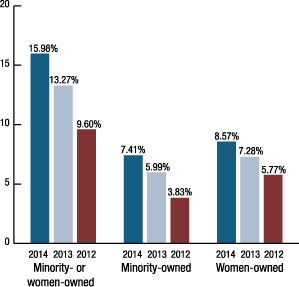 Return to text
Note: Awards to businesses that are both minority-owned and women-owned are counted in the minority-owned award percentages only.
The Board tracks contracts awarded to the minority-owned demographic. The classifications are Asian; black or African American; Hispanic or Latino; American Indian or Alaska Native; Native Hawaiian or other Pacific Islanders; and other (nonspecific) minority-owned businesses.3 Figure 2 shows the value of contracts awarded to minority-owned businesses by demographic in 2014.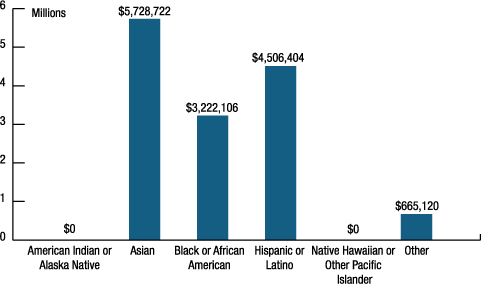 Successes
In this Section:
During 2014, the Federal Reserve Board increased its presence in the supplier diversity community locally and nationally by continuing to implement a comprehensive outreach strategy. As part of this strategy, the Board continued to support M/WOB advocacy groups by engaging in numerous outreach activities (see table 5) to provide technical assistance by presenting, exhibiting, or matchmaking at various conferences and to enhance awareness of the Board's acquisition process. The Board also provided technical assistance and outreach by responding to potential M/WOB contractors' inquiries concerning upcoming procurement opportunities.
In addition to participating in external M/WOB outreach events, the Board hosted two highly successful vendor events: the Vendor Outreach Fair and the Empower Forum.
Table 5. Supplier diversity outreach activities, 2014
Alliance Mid-Atlantic Small Business Procurement Fair
American Small Business Chamber of Commerce
Annual Government Procurement Conference
Congressional Black Caucus Foundation's Annual Legislative Conference
Federal Reserve Board Empower Forum
Federal Reserve Board's Annual Vendor Fair
Greater Washington Hispanic Chamber of Commerce (GWHCC) Business Exposition
National 8(a) Association Small Business Conference
National Minority Supplier Development Council (NMSDC) Conference
National Reservation Economic Summit for Native American Businesses
U.S. Black Chambers, Inc.
U.S. Hispanic Chamber of Commerce Conference
U.S. Women's Chamber of Commerce Conference
US Pan Asian CelebrASIAN
WBENC 2014 Summit & Salute to Women's Business Enterprises
Women-Owned Small Business National Council Contracting Summit
Vendor Outreach Fair
The annual Vendor Outreach Fair allows vendors to learn about the Federal Reserve System's purchasing needs and offers them the opportunity to discuss their business capabilities and interact with the procurement staff and Board technical representatives. The 2014 fair included new features meant to enrich and add value to participants' experience. For instance, program materials included a personal message from Federal Reserve Board Chair Janet Yellen to conference participants that set the tone for the event by reaffirming the Board's commitment to fostering diversity in the procurement process. Other enhancements included seminars on the following:
How to Respond to the Board's Solicitation Offer and Award
Doing Business with the Federal Reserve System
Martin Renovation Project, General Services, and Facilities Operations
Subcontracting with Construction Prime
Dodd-Frank Statute: Section 342 - Office of Minority and Women Inclusion Procurement and Business Practices-Supplier Diversity
Figures 3, 4, and 5 show the breakdown of companies participating in the 2014 fair by size, demographic classification, and gender. Overall, attendance in 2014 surpassed that of previous years' fairs: more than 500 companies participated. In addition, the U.S. Small Business Administration, other federal financial regulatory agencies, and several Federal Reserve Banks presented during the event. And in a post-conference survey of attendees, the 2014 fair received overwhelmingly positive feedback.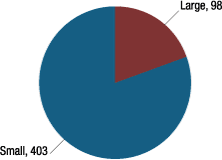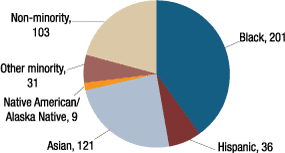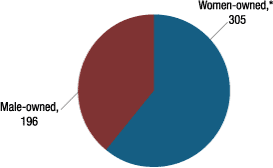 Empower Forum
The Federal Reserve Board began holding the Empower Forum for potential vendors in 2012. The goal of the event is to assist firms in building capacity to enhance their ability to participate in the Board's acquisition process and to identify developmental challenges where the Board can provide additional training.
In 2014, the forum was focused on the construction sector, due to the imminent Martin Building renovation project; however, participants from the consulting and service industries were also well-represented. There were 56 participants, of which 37 were African American, 7 were Native American, 8 were Hispanic, and 4 were Asian American. Sixteen participants represented women-owned companies.
Challenges
In this Section:
The Procurement Section continues to proactively address challenges associated with the Supplier Diversity Program identified in the Board's 2013 OMWI report.
Vendor Vetting Process
Key among these challenges is the issue of vendors' self-designation of their status as a minority-owned or women-owned business. The Board currently accepts vendors' self-designation, which may result in inaccurate data classification. To address this issue, Board staff met with representatives from the Women's Business Enterprise National Council and the National Minority Supplier Development Council to discuss their certification procedures. It was determined that the organizations' certifications can be used to validate the status of vendors during the Board's vetting process, which should promote a more efficient process for both the Board and its vendor applicants.
Beginning later this year, the vendor vetting process will include a review of financial records, vendor past performance, and possible on-site visits. In addition to validating the certification of the vendor, the Board believes that these changes will help to ensure that its contractors are financially stable and will increase the participation of M/WOBs in the acquisition process. These additional elements should provide the Board with a better understanding of vendors' capabilities relative to upcoming procurement opportunities.
Supplier Diversity Awareness
Procurement continues to recognize the need to increase Board staff's awareness and understanding of the requirements of section 342 of the Dodd-Frank Act. The Procurement Section is developing a webinar to raise Board-wide awareness as well as educate and train staff on the importance of supplier diversity. This webinar will be implemented in 2015.
Next Steps
In 2015, the Board will build upon the efforts made in 2014 to identify, facilitate, and advance opportunities for M/WOBs to successfully participate in the contracting opportunities available at the Board.
Key actions will include
offering training to enable vendors to increase their capacity to participate in the Board's acquisition process;
increasing the Board's presence with advocacy groups representing M/WOBs;
creating dashboards representing the number, dollar value, and percent of contracts awarded to M/WOBs in order to monitor changes and trends in the Board's procurement activities; and
holding regular meetings with financial regulators and supplier diversity professionals to share information, metrics, innovations, and opportunities related to diversity and inclusion in contracting.
Finally, to increase the participation of M/WOBs in the Board's contracting activities, the Procurement Section and ODI will meet quarterly to discuss and assess the acquisition of goods and services in order to ensure full inclusion of M/WOBs in the acquisition process. In addition, a business intelligence tool, MicroStrategy, is being used to assist the Board's leadership in monitoring their business activities with M/WOBs in their contracting activities.
References
2. This report describes the contracts awarded by the Board for the period January 1, 2014, through December 31, 2014. The dollar amount shown represents the estimated value of the contracts rather than the actual amount spent. Return to text
3. Other represents minority firms that did not select a demographic group. Return to text
Last update: April 6, 2015