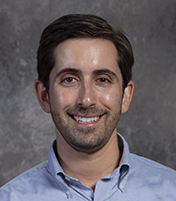 Joshua Blonz
Education
Ph.D., Agricultural and Resource Economics, University of California - Berkeley, 2017
B.A., Economics, Pomona College, 2008
Principal-agent problem, Energy policy
Economist

Board of Governors of the Federal Reserve System

Postdoctoral Scholar

Resources for the Future
Blonz, Joshua A. (2019). "The Welfare Costs of Misaligned Incentives: Energy Inefficiency and the Principal-Agent Problem," Finance and Economics Discussion Series 2019-071. Board of Governors of the Federal Reserve System (U.S.)
Blonz, Joshua (2017). "Essays in Environmental and Energy Economics," Ph.D. dissertation, University of California, Berkeley.
Blonz, Joshua, Dallas Burtraw, and Margaret Walls (2012). "Social Safety Nets and US Climate Policy Costs," Climate Policy, vol. 12, no. 4, pp. 474-490.
Blonz, Joshua, Dallas Burtraw, and Margaret A. Walls (2010). "Climate Policy's Uncertain Outcomes for Households: The Role of Complex Allocation Schemes in Cap-and-Trade," The B.E. Journal of Economic Analysis & Policy, vol. 10, no. 2 ((Symposium), Article 5.
Burtraw, Dallas, Margaret Walls, and Joshua Blonz (2010). "Distributional Impacts of Carbon Pricing Policies in the Electricity Sector," in Gilbert E. Metcalf (ed.). U.S. Energy Tax Policy (pp. 10-40).Cambridge University Press.
conference

July 2019

NBER EEE Summer Institute

The Welfare Costs of Misaligned Incentives: Energy Inefficiency and the Principal-Agent Problem

conference

June 2019

AERE Summer Conference, Lake Tahoe

The Welfare Costs of Misaligned Incentives: Energy Inefficiency and the Principal-Agent Problem

conference

March 2017

UC Berkeley Power Conference

Making the Best of the Second-Best: Welfare Consequences of Time-Varying Electricity Prices

conference

June 2016

AERE Summer Conference, Breckenridge CO

Energy Efficiency Savings in Low-Income Households: Evidence from the California Savings Assistance Program
Referee
AEJ: Economic Policy
Economic Letters
Energy Journal
Journal of Economic Behavior & Organization
Journal of Environmental Economics and Management
Journal of Public Economics
Journal of the Association of Environmental and Resource Economists
Nature Energy
Nature Sustainability
Last update: November 20, 2019