November 06, 2017
Randal K. Quarles sworn in as member of the Board of Governors of the Federal Reserve System and as Vice Chair for Supervision
For release at 2:00 p.m. EST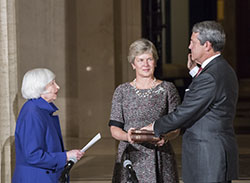 Chair Yellen swears in Randal K. Quarles as governor and Vice Chair for Supervision as wife Hope Eccles holds the Bible.

Click here for more high-resolution photos.
Randal K. Quarles was ceremonially sworn in as a member of the Board of Governors of the Federal Reserve System and as Vice Chair for Supervision on Monday in the atrium of the Board's Eccles building in Washington.
Friends, family, and Board employees attended the ceremony, which was presided over by Federal Reserve Chair Janet L. Yellen.
Following his confirmation by the Senate, Vice Chair Quarles took office on October 13 to fill an unexpired term ending on January 31, 2018. His term as Vice Chair for Supervision ends on October 13, 2021.
For media inquiries, call 202-452-2955.