Strategic Plan 2016-19

Print
Message from the Chair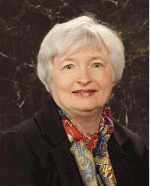 When I first came to the Federal Reserve, I was struck by my colleagues' passion for the mission of the Fed. I hope it is obvious that 38 years later, I still feel that passion. I have been able to observe our staff's hard work and willingness to take up new challenges, aided by their immense skills in order to foster the stability of the nation's monetary systems, and to promote optimal economic performance.
I am heartened by how far the Board has come over the past few years in terms of the collective deliberation around activities and priorities. We have pulled together to make significant policy decisions, which not only affect monetary and financial policy but also play a key role in the public perception of the Federal Reserve System.
During the past several years, all of us here at the Federal Reserve Board realized that our environment was dramatically changing and business as usual was not a viable strategy. We responded to this new environment with greater coordination across divisions and investments and faster progress in areas like building out our financial stability infrastructure and expanding our research capacity. Sustaining a collaborative environment is critical to our future, as the environment in which we operate has become increasingly interconnected and interdependent.
As we continue to promote the economic recovery and price stability as well as work toward financial stability, we must also pay attention to our own institution. We must provide staff the resources and opportunities to achieve the operational goals of the Board. We are involved in more demanding, complex, and interdependent work with rapidly changing business models, processes, and technology. We need a thorough understanding of the business value, cost, and impact on operational efficiency of new requirements, investments, or programs. The Strategic Plan 2016-19 will ensure we make the needed investments and develop the initiatives to maximize our ability to achieve our important mission.
Janet Yellen, Chair
Federal Reserve Board
Last update: October 13, 2015