Christopher J. Waller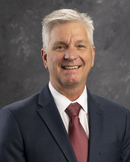 Christopher J. Waller took office as a member of the Board of Governors of the Federal Reserve System on December 18, 2020, to fill an unexpired term ending January 31, 2030.
Prior to his appointment at the Board, Dr. Waller served as executive vice president and director of research at the Federal Reserve Bank of St. Louis since 2009.
In addition to his experience in the Federal Reserve System, Dr. Waller served as a professor and the Gilbert F. Schaefer Chair of Economics at the University of Notre Dame. He was also a research fellow with Notre Dame's Kellogg Institute for International Studies. From 1998 to 2003, Dr. Waller was a professor and the Carol Martin Gatton Chair of Macroeconomics and Monetary Economics at the University of Kentucky. During that time, he was also a research fellow at the Center for European Integration Studies at the University of Bonn. From 1992 to 1994, he served as the director of graduate studies at Indiana University's Department of Economics, where he also served as associate professor and an assistant professor.
Dr. Waller received a BS in economics from Bemidji State University and an MA and PhD from Washington State University.