Federal Reserve Bank of Richmond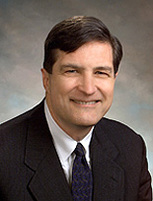 Jeffrey M. Lacker
President
Federal Reserve Bank of Richmond
Dr. Lacker took office August 1, 2004, as the seventh chief executive of the Fifth District Federal Reserve Bank, at Richmond. He is currently serving a full term that began March 1, 2011. In 2017, he serves as an alternate voting member of the Federal Open Market Committee.
Dr. Lacker was born in September 1955 in Lexington, Kentucky. He received his bachelor's degree in economics from Franklin and Marshall College in 1977. Following graduation, Dr. Lacker joined Wharton Econometrics in Philadelphia. He went on to earn a Ph.D. in economics from the University of Wisconsin in 1984. Dr. Lacker was an assistant professor of economics at the Krannert School of Management at Purdue University from 1984 to 1989. He joined the Bank in 1989 as an economist in the banking area of the Research Department. He was named research officer in 1994, vice president in 1996, and senior vice president and director of the Research Department in May 1999.
Dr. Lacker is the author of numerous articles in professional journals on monetary, financial, and payment economics, and has presented his work at several universities and central banks. He taught at The College of William and Mary in 1992 and 1993, and in 1997 he was a visiting scholar at the Swiss National Bank.
Dr. Lacker is a member of the Maggie L. Walker Governor's School Advisory Council, and he serves as director for the board of the Richmond Jewish Foundation. He is also a member of the Junior Achievement of Central Virginia Advisory Board and is director of the World Affairs Council of Greater Richmond.
Bank Location
701 East Byrd Street
Richmond, VA 23219
(804) 697-8000
Visitor Information
The Fed Experience
Head office at Richmond, Virginia.
Branch Banks at Baltimore, Maryland, and Charlotte, North Carolina.
Covers the states of Maryland, Virginia, North Carolina, and South Carolina; 49 counties constituting most of West Virginia; and the District of Columbia.
Website: https://www.richmondfed.org/
---
---
List of Directors
Class A
Name
Title
Term expires
December 31
Robert R. Hill, Jr.
Chief Executive Officer
South State Corporation and South State Bank
Columbia, South Carolina
2017
Susan K. Still
President and Chief Executive Officer
HomeTown Bankshares Corporation and HomeTown Bank
Roanoke, Virginia
2018
William A. Loving, Jr.
President and Chief Executive Officer
Pendleton Community Bank
Franklin, West Virginia
2019
Class B
Name
Title
Term expires
December 31
Thomas C. Nelson
Chairman, President, and Chief Executive Officer
National Gypsum Company
Charlotte, North Carolina
2017
Catherine A. Meloy
President and Chief Executive Officer
Goodwill of Greater Washington/Goodwill Excel Center
Washington, D.C.
2018
Ángel Cabrera
President
George Mason University
Fairfax, Virginia
2019
Class C
Name
Title
Term expires
December 31
Kathy J. Warden
(Deputy Chair)
Corporate Vice President and President, Mission Systems
Northrop Grumman Corporation
Linthicum, Maryland
2017
Calvin G. Butler, Jr.
Chief Executive Officer
Baltimore Gas and Electric Company
Baltimore, Maryland
2018
Margaret G. Lewis
(Chair)
Retired President
HCA Capital Division
Richmond, Virginia
2019
BALTIMORE BRANCH
Appointed by the Federal Reserve Bank:
Name
Title
Term expires
December 31
Austin J. Slater, Jr.
President and Chief Executive Officer
Southern Maryland Electric Cooperative, Inc.
Hughesville, Maryland
2017
Christopher J. Estes
President and Chief Executive Officer
National Housing Conference
Washington, D.C.
2018
Laura L. Gamble
Regional President Greater Maryland
PNC
Baltimore, Maryland
2018
Mary Ann Scully
Chairman, President, and Chief Executive Officer
Howard Bancorp
Ellicott City, Maryland
2019
Appointed by the Board of Governors:
Name
Title
Term expires
December 31
Susan J. Ganz
(Chair)
Chief Executive Officer
Lion Brothers Company, Inc.
Owings Mills, Maryland
2017
Kenneth R. Banks
President and Chief Executive Officer
Banks Contracting Company
Greenbelt, Maryland
2018
Wayne A. I. Frederick, MD
President
Howard University
Washington, D.C.
2019
CHARLOTTE BRANCH
Appointed by the Federal Reserve Bank:
Name
Title
Term expires
December 31
R. Glenn Sherrill, Jr.
President and Chief Operating Officer
SteelFab Inc.
Charlotte, North Carolina
2017
Michael D. Garcia
President, Pulp and Paper
Domtar, Corp.
Fort Mill, South Carolina
2018
Jerry L. Ocheltree
President and Chief Executive Officer
Carolina Trust Bank
Lincolnton, North Carolina
2018
Michael C. Crapps
President and Chief Executive Officer
First Community Bank
Lexington, South Carolina
2019
Appointed by the Board of Governors:
Name
Title
Term expires
December 31
Claude Z. Demby
Vice President and General Manager
Cree, Inc.
Durham, North Carolina
2017
Laura Y. Clark
(Chair)
Chief Impact Officer
United Way of Central Carolinas
Charlotte, North Carolina
2018
Michelle A. Mapp
Chief Executive Officer
South Carolina Community Loan Fund
Charleston, South Carolina
2019
Back to Top
Last Update: March 20, 2017