Economic

Research & Data

Economists at the Federal Reserve Board conduct innovative research on a broad range of topics in economics and finance. In addition to presenting their research to policymakers, Board economists share their research at academic conferences and publish it in peer-reviewed journals and other scholarly outlets.
The 2013 Survey of Consumer Finances (SCF) reports on family incomes, net worth, use of credit, and more. 
Shaghil Ahmed, Brahima Coulibaly, and Andrei Zlate
We assess the importance of economic fundamentals in the transmission of international shocks to financial markets in various emerging market economies (EMEs).
Nathan C. Foley-Fisher, Borghan Narajabad, and Stephane H. Verani
Is liquidity creation in shadow banking vulnerable to self-fulfilling runs?
Overnight rates for AA nonfinancial, A2/P2 nonfinancial, AA financial, and AA asset-backed commercial paper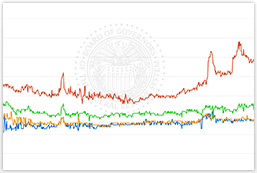 Careers

Working at the Board

The Congress has entrusted the Federal Reserve with great responsibilities. In every phase of our work and decisionmaking, we consider the well-being of the American people and the prosperity of our nation.

Chair Janet L. Yellen
Principal Economic Indicators

Household Finance

Consumer Credit - G.19

Industrial Activity

Industrial Production and Capacity Utilization - G.17

Money Stock and Reserve Balances

Factors Affecting Reserve Balances - H.4.1

Money Stock and Reserve Balances

Money Stock Measures - H.6
Interactive Tools and Guides
Last update: August 27, 2015